WaiveCar is a free, all-electric car-sharing service that offers complimentary rides for up to two hours. How does a business afford to provide free services?
The WaiveCar is encased in vinyl advertising and has LCDs atop them, similar to a taxicab. The founders of Waive Car, Zoli Honig and Isaac Deutsch of Santa Monica, California, proposed their eco-friendly business on Shark Tank in October 2017.
WaiveCar is an advertising-supported free car-sharing service founded in 2016 by Zoli Honig and Isaac Deutsch. The service allows drivers to use their vehicles for up to two hours for free, after which it is then $5.99 an hour. To use the service, drivers must be 21 years of age and have a valid license and a credit card.
WaiveCar partners with Hyundai to provide electric vehicles such as the IONIQ. Advertising space on the vehicles is sold, and content is delivered based on location through rooftop 4G towers and an onboard GPS.
There is currently a pilot program in Santa Monica, California, but the company hopes to expand. Zoli Honig and Isaac Deutsch approached the Tank seeking a $500,000 investment in return for a 2% stake in WaiveCar.
What is WaiveCar?
WaiveCar offers complimentary car rentals to its customers, making it the world's first all-electric car-sharing service. The first two hours of driving by a driver are free. After that, $5.99 per hour for each hour afterward.
WaiveCar offers the lowest rates in the car-sharing sector, financed by revenue produced by advertisements broadcast on the digital billboards mounted atop its fleet of electric automobiles.
| | |
| --- | --- |
| Company Name | WaiveCar |
| Entrepreneur | Zoli Honig and Isaac Deutsch |
| Product | electric car ride-sharing service |
| Investment Asking For | $500,000 for 2% equity in Waivecar |
| Final Deal | $500,000 loan at 12% interest for 2.25% equity in Waivecar + 80% discount on unsold ad space |
| Shark | Kevin O'Leary |
| Episode | Season 9 Episode 7 |
| Business Status | In Business |
| Website | Visit Website |
Who is the Founder of WaiveCar?
Zoli Honig and Issac Deutsch are the founders of Waivecar. Zoli has been an entrepreneur for a long time, having founded several before WaiveCar.
WaiveCar Before Shark Tank
WaiveCar launched in 2016, bills itself as the world's first free electric car-sharing service. WaiveCar is based in Santa Monica and allows customers to drive their vehicles for free for two hours (after two hours, they must pay per hour) through a marketing scheme that allows businesses to promote their products on the cars directly. 
An automobile driver can act as a mobile billboard if the license and credit card are valid. WaiveCar is unique in that the firm does not profit from its clients. Instead, the company's revenue is solely derived from digital advertisements on a screen atop the vehicles. 
Customers are well served by renting a vehicle for a short time since others can immediately utilize the vehicle afterward. Deutsch and Honig launched WaiveCar with 20 cars as a pilot program in May 2016.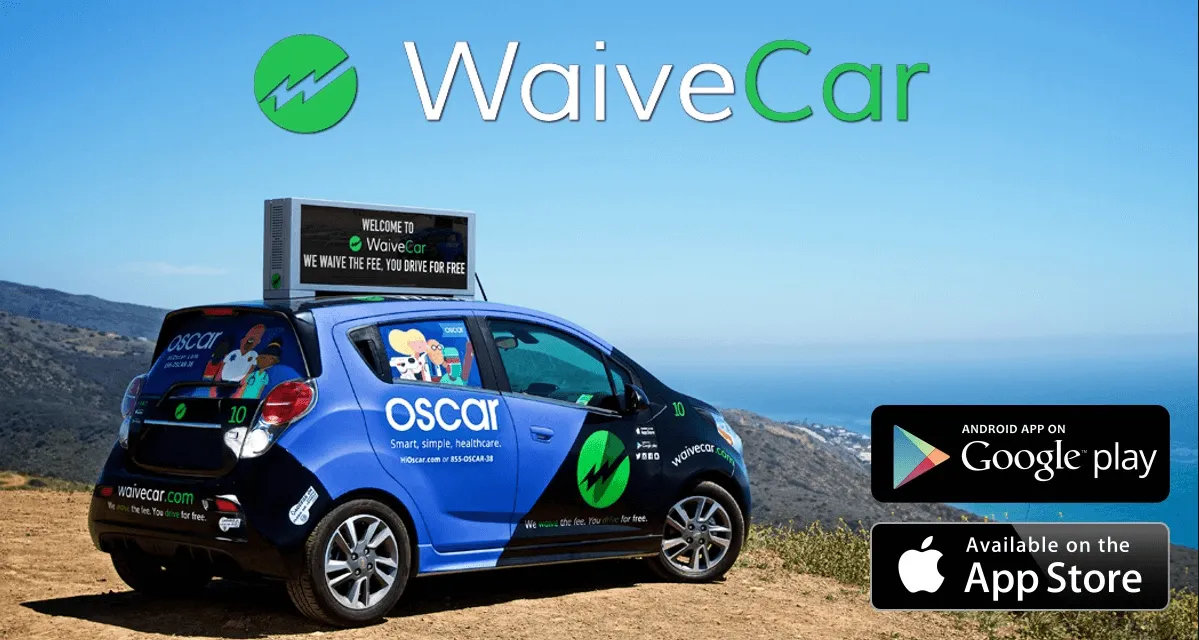 They already gathered more than 3,000 customers in the Santa Monica area within their first month, with 45 percent of women and 55 percent of men, more than their competitors Cart2Go and Zipcar managed in their early months.
WaiveCar secured a 12-month agreement with Hyundai, which enabled the company to operate its fleet of cars.
The company would supply the carmaker with advertising space for the vinyl wrap. The driver would also be asked to answer questions after each ride. Its growth has enabled it to expand into Los Angeles by 2017, adding 180 vehicles. 
The car-sharing industry is saturated with competition, but they remain confident owing to their unique technique. They believe that more people will use them because they are free.
A few days after expanding to Los Angeles, WaiveCar appeared on ABC's famous television show Shark Tank. A final episode featuring the two founders appeared on October 29, 2017.
How Was The Shark Tank Pitch of WaiveCar?
Isaac and Zoli appeared on Shark Tank seeking an investment of $500,000 in exchange for a 2% stake in WaiveCar.
WaiveCar was founded in 2012, and the business has only been around for five months. Lori Greiner has seen it in the three months it has been in business.
WaiveCar charges cars to park in paid parking spaces, which is free for electrified cars. Users respond to a few simple questions by downloading a mobile app that allows them to quickly book a parking space in a lot for free.
Mark Cuban thought the advertising space was too competitive, so he quit. Lori felt that the business model was easy to copy and copy, so she left. Likewise, Chris Sacca was very unhappy with their model and said he did not think it was better than Uber.
Chris Sacca, who is an investor in Uber, did not think that what WaiveCar was doing was any more efficient than Uber or any other company, and he also did not believe that anything they did was superior to Uber or any other company.
Kevin O'Leary was impressed with the company and its potential, so he put out a loan offer of $500,000 with 12% interest and 4% in WaiveCar, but with the condition that he could use any unused advertising space.
Barbara Corcoran put up $500,000 for 10% equity and said she would not budge on that offer. Zoni offered to invest $500,000 for 5% equity of WaiveCar. He said that was too low, and he said no.
Kevin agreed to 2%. He responded with $500,000 as a loan for 12% interest and 1% equity in the company. He would pay 80% of the money back if they had more advertising space.
Kevin said he would invest 500,000 in WaiveCar for 2.5% equity in the company, Isaac said 2%, Kevin also said 2.25%, and Isaac said 2%.
Finally, the founders of WaiveCar left the Shark Tank stage with an investment from Kevin O'Leary of $500,000 for a 2% stake in WaiveCar.
Final Deal: Kevin O'Leary agreed to invest $500,000 for a 2% stake in WaiveCar.
WaiveCar After Shark Tank Update
The agreement between WaiveCar and Kevin O'Leary was completed, and the company got promised investment from Kevin.
Regrettably, WaiveCar has ceased operations, but Zoni and Isaac have joined ReefDrive and are now renting out "fun utility vehicles" rather than the older-style electric cars. They also have a presence in Santa Monica and may be found in Los Angeles and Miami.
Advertisers can now develop and distribute commercials straight to the cars using their marketing automation software, which interfaces directly with WaiveCar's digital platform. This feature significantly increases the allure of the experience.
WaiveCar discontinued posting on social media in October 2019. Cal State LA discontinued the WaiveCar program on its campus in January 2020 due to an insurance issue. "ATTENTION!! WAIVECAR VEHICLES WILL BE TEMPORARILY OUT OF SERVICE DUE TO AN INSURANCE SWITCH." signs.
They later founded WaiveWork, which hires electric automobiles for $280 per week, although they continue to use the same social media accounts that have been inactive since October 2019.
Isaac will begin working for the same company in December 2020. As of 2023, the social media platforms have not been updated, and the Waive website has been reduced to a black page with the corporate logo.
The company recently partnered with a developer to offer its services to Level residents, a waterfront rental building in Williamsburg. The arrangement stipulates that only Level residents will have access to the vehicles, which will be housed in a complex of more than 500 apartments.
The social media accounts of WaiveCar have been pulled off, and the company's website is also unavailable. Hence, we can say that WaiveCar is out of business as of 2023.
Did WaiveCar Secure a Deal on Shark Tank?
Waivecar founders Zoli Honig and Isaac Deutsch secured a $500,000 loan from Kevin O'Leary in exchange for 2% equity in the company during Season 9, Episode 7 of Shark Tank.
How Does WaiveCar Make Money?
WaiveCar's innovative digital out-of-home advertising and differentiated business strategy position the company as a major disruptor in the advertising and automobile-sharing industries.
WaiveCar, launched in January 2015, has raised 3.5 million dollars in venture capital. It is currently valued at $6.7 million.
What are People's Thoughts on WaiveCar?
WaiveCar has accumulated several positive evaluations during the last few months. For example, the company now has a 4.5-star rating on Yelp, garnered from roughly 20 users.
Many customers are content with the free driving concept, judging by some of their reviews. It makes sense that they have expressed concerns about a vehicle shortage, particularly since they are relatively new compared to some of their competitors.
Is WaiveCar Still in Business?
WaiveCar launched 19 electric cars in Los Angeles and another three in New York following their appearance on Shark Tank. WaiveCar partnered with California State University to launch a zero-emission vehicle-sharing program in 2019. 
WaiveCar's car-sharing services at its Los Angeles campus were halted in January 2020 as the company tried to renew its insurance for its fleet of electric vehicles. WaiveCar appears to be facing plenty more trouble in the foreseeable future.
The WaiveCar app has mysteriously vanished from the Google Play Store and Apple App Store, leaving users to speculate on the fate of the promising startup. It is unknown whether the WaiveCar has undergone a pivot.
The company has since introduced WaiveWork – an economical car rental solution for people with driving-related jobs. WaiveWork is designed for people who drive but don't own or want a car.
WaiveCar offers the Hyundai IONIQ Hybrid electric car for rent for $40 per day, including insurance and maintenance.
Waivecar appears to be on hiatus at the moment. The founders have moved gears and will begin work on a new project, REEF, in 2020. REEF will convert stagnant parking lots into flourishing mobility and logistics hubs.
What Is the Net Worth of WaiveCar?
The valuation of WaiveCar was $25 million when it appeared on Shark Tank. The net worth of WaiveCar is unavailable as of 2023 since the company went out of business.