PayPal Business Model | How Does PayPal Make Money?
PayPal started as a leading e-commerce merchant startup in 1998. Today, the organization provides services in over 200 countries on a global scale. Ebay.com acquired PayPal for $1.5 billion in 2002. PayPal is now utilized for various purposes by both individuals and corporations.
PayPal earns money through transaction fees and premium features available to business accounts through subscriptions, the selling of card readers, business loans, referral fees on cashback rewards, interchange fees, and interest on funds, as well as through the promotion of shipment services.
You do not need to be a member to transfer money if you have an email address. But if you want to receive money through PayPal, you need to sign up for PayPal.
PayPal was founded in October 2000 and has evolved to become one of the world's primary facilitators of online payments. Today, the platform has over 377 million registered users. What Is PayPal
PayPal is a financial services corporation best known for its online payment platform that enables individuals and companies to send and receive payments.
PayPal primarily generates revenue by processing client transactions on its Payments Platform and providing various value-added services to consumers and businesses.
Thus, revenue streams are classified as transaction revenues or total payments revenues based on the volume of their user activity.
Additionally, value-added services such as interest and fees on loans and interest receivable include under PayPal. PayPal traded over $936 billion over its multiple platforms in 2020 and more than $236 billion in the 1st quarter of 2021.
Basic Information about PayPal
| | |
| --- | --- |
| Company | PayPal Holdings, Inc. |
| CEO | Daniel Schulman |
| Year founded | 1998 |
| Founders | Ken Howery | Luke Nosek | Max Levchin | Peter Thiel | Elon Musk |
| Number of Employees | 21,800 |
| Company Type | Public |
| Ticker Symbol | PYPL |
| Market Cap (May 2021) | $304.38 Billion |
| Annual Revenue (May 2021) | $21.4 billion |
| Subsidiary | Braintree payments | Xoom | Venmo | iZettle | Simility | Hyperwallet |
PayPal Basic Information
How Does PayPal Work?
PayPal is a financial technology business that allows individuals and business owners to send and receive money worldwide via its website and mobile app.
You can send and receive money with PayPal once you sign up and connect your bank account or credit card.
As a PayPal user, you can: Pay other businesses in return for goods and services both within the platform and on the merchant side.
Send money to friends and family.
Receive money from friends and family
PayPal is a highly secure platform that ensures the confidentiality of your information and employs many security measures to safeguard transactions between buyers and sellers.
You can connect PayPal directly to your bank account or credit card from which you want to load funds or receive money. Additionally, PayPal supports Two-Factor Authentication through a cell phone number, which provides additional protection to your account.
However, if you require additional security measures for your PayPal account, you can purchase PayPal Security Key, which costs $29.95 per month. You will need to use the security key to log in and make transactions every time.
The Security Key device creates a 6-digit code valid for 30 seconds. Apart from payment and money transfer, PayPal offers various other goods, such as monthly installment payments through PayPal Credit and cashback at specific partner merchants.
On the other hand, PayPal partners with businesses of all sizes to accept payments online. Its merchant services include a direct checkout function on the business's storefront, discounted shipping through its collaboration with UPS, dispute resolution, fraud monitoring and prevention, and business loans.
You can use PayPal from its website and its Android and iOS mobile or tablet applications. PayPal is available in more than 200 countries worldwide. Over 377 million individuals use its platform.
How Does PayPal Make Money?
PayPal is more than a financial technology company; it is a catalyst for change in the digital money market. While PayPal is not a bank, it offers many of the same benefits as a bank.
PayPal earns money through transaction fees, subscriptions for business accounts, the selling of card readers, business loans, referral fees on cashback, interchange fees, and interest on funds, as well as through the promotion of shipment services.
PayPal generates revenue in two distinct methods. To begin, the company charges the payment received a fee.
While most PayPal transactions are free, merchants with business or elite accounts are charged a fee for each transaction. These fees are usually $.30 plus a surcharge of 1.9 to 2.9 percent.
PayPal offers various services, including money transfers, debit cards, credit cards, loans, payment gateways, and a digital wallet as part of its core services.
It's critical to know that you will not be charged anything until you receive payment for your sale.
PayPal will charge you 2.9 percent and $.30 on each sale for business inside the US. The percentage decreases to 2.25% for eligible charities and increases to 4.45% for foreign sales.
eBay made the best decision of its life in 2002 when it acquired PayPal for $1.5 billion and integrated it into its interface as a checkout option. Though it is no longer an eBay subsidiary, PayPal has never looked back since.
PayPal derives revenue from various sources, and one must go deeply into the company's business strategy to answer the question, "How does PayPal make money?"
Let's take a closer look at the different streams through which PayPal generates revenue.
Transaction Fees from Personal Account
PayPal offers two types of accounts: personal and business accounts. You can send and receive money online from family and friends with a personal account and pay for online and offline purchases using your debit card, credit card, or PayPal balance.
On the other hand, PayPal charges a fee that varies by country when you submit a personal payment using a debit, credit, or PayPal credit card.
With PayPal Personal account, you can do these things.
Money transfers to family and friends.
Receipt of funds from relatives and friends.
Charge for products and services.
Withdrawing funds from a business account to a personal bank account.
Business accounts are available to merchants who use PayPal to sell things online.
The business users pay a fee of 2.9 percent + $0.30 on the sale amount. This price, however, is lowered by an enhanced amount. PayPal does not charge any money for withdrawals to accounts. However, in some cases, if you wish to withdraw funds in the form of a check, you must pay a $1.50 fee.
You can perform the following tasks using PayPal:
Use debit or credit cards to send money to family and friends.
International payment processing.
Selling goods and services, for example, via online marketplaces such as eBay.
Transfers to a personal bank account are instant.
Money transfer to a personal debit or credit card.
Purchase and sale of cryptocurrency.
Request that a paper cheque is mailed to you.
Business Account Fees
Apart from personal accounts, users can create business accounts to send and receive payments online or in-store. As the name implies, the business account enables businesses to accept payments via PayPal for their goods and services.
Business accounts, like personal accounts, are entirely free to open. Business owners can upgrade to PayPal Payments Pro if they require a more comprehensive set of features.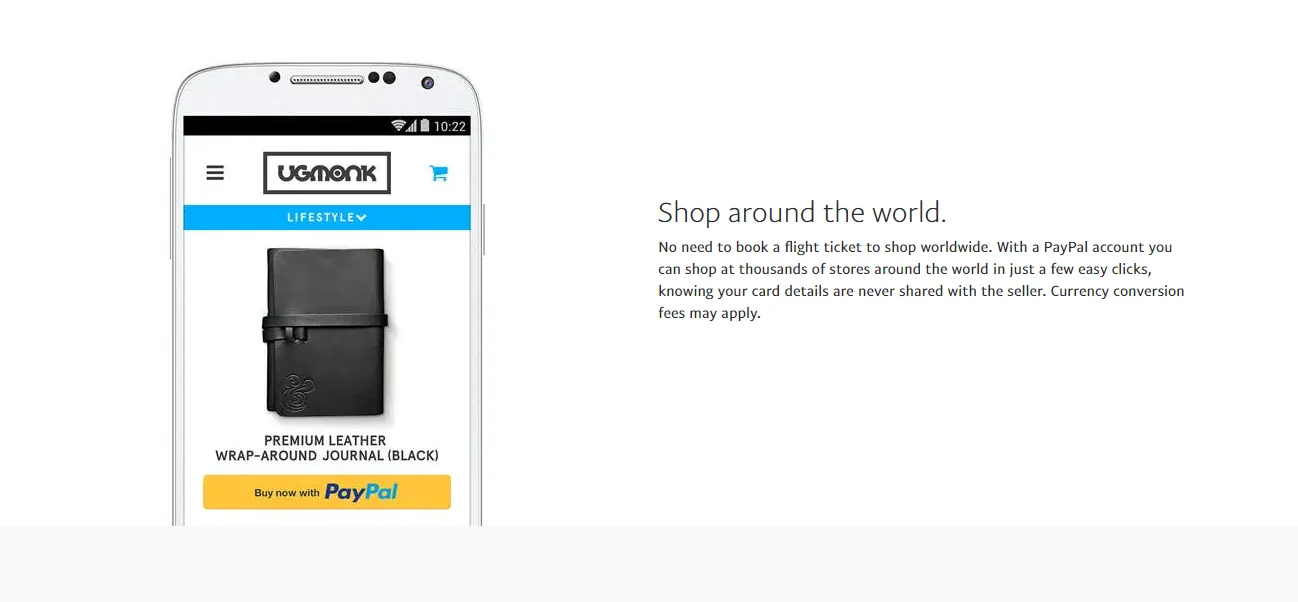 Payments Pro is available on a monthly subscription basis for $30 per month. Payment Pro features include a virtual terminal, the ability to handle Visa, Mastercard, and American Express payments, and specialized customer assistance.
In addition to the subscription cost, company owners are charged per transaction. A comprehensive description of merchant fees is available here. Several examples include the following:
For example, PayPal charges 2.9 percent (plus a predetermined fee) for online purchases and 2.7 percent (plus a fixed cost) for in-store purchases.
A 1.5 percent surcharge on the standard fee is applied to foreign transactions.
Fees associated with PayPal Here transactions.
Charges for debit and credit card transactions.
Payments in bulk enable organizations to manage many recipients simultaneously (maximum 2 percent).
Fee for micropayments is equal to 5% + a fixed fee.
Chargeback fees are assessed on purchases not handled through the buyer's PayPal account or a guest checkout by a non-PayPal user.
Buyers are charged dispute costs anytime they submit a claim or request a chargeback.
Fees for currency conversion.
Additionally, business account owners can opt for additional premium features for monthly subscriptions, setup fees, and per-transaction charges.
PayPal charges a $29.95 setup cost and $19.95 monthly cost for account monitoring services, $20 per month and $0.05 per transaction for comprehensive fraud control filters, and buyer verification services are $10 per month and $0.10 per transaction are just a few examples.
Fees for business accounts vary according to the country where they are operated and the country from which payments are made.
Payflow Payment Gateway Fee
Payflow is a PayPal service that acts as a payment gateway. You can integrate Payflow into your website if you have a business account. For online checkout pages, the various levels of customization are as follows:
Payflow Pro: For $25, this premium package enables users to customize and create their checkout pages.
Payflow link: This plan is entirely free. PayPal hosts it on its webpage, where customers can enter their payment information.
The charge for credit card payments for the gateway fee is the same for both programs. Additionally, the company offers three alternative services for an additional fee. Among these are.
Fraud protection
Buyer authentication
Recurring billing
Recurring Working Capital
PayPal's working capital, as the name implies, is a small loan for your working capital needs. With a fixed fee and no interest. You can borrow up to 15% of your past 12 months' PayPal sales, up to $85,000.
PayPal Working Capital enables business owners to apply for PayPal-provided loans. The additional capital should then be utilized to increase the business's operations and reach.
PayPal's working capital operates somewhat differently than a conventional loan. Rather than a monthly payment, daily payments are made as a proportion of your sales.
The maximum cash advance amount is determined by various variables, including sales volume, account history (how many claims you receive, for example), and previously used PayPal Working Capital.
Unlike traditional loans, which accrue interest monthly, PayPal loans are repaid on a per-transaction basis. In simple terms, it's a business loan for small enterprises needing more funding to expand.
Working capital operates differently than a regular loan. There is no requirement for a credit check. There are no recurring interest charges or early repayment penalties.
PayPal's working capital operates somewhat differently than a conventional loan. Rather than a monthly payment, daily payments are made as a proportion of your sales. Interest is eliminated in favor of a flat cost.
The borrower's PayPal sales history determines the loan, and a one-time fixed charge typically replaces the recurring interest. Its annual PayPal sales evaluate a business's eligibility for a loan.
The set charge is proportional to the percentage of daily sales allotted. The fee is reduced proportionately to the rate of daily sales you want to assign to repayment.
If your firm is doing well, you can borrow up to 35% of your sales. Additionally, debt repayment occurs daily rather than monthly.
This implies that a part of the proceeds is taken and applied toward repaying the loan whenever you make a sale. As a result, PayPal earns money from the subtracted fees.
Interest is eliminated in favor of a flat cost. The set charge is proportional to the percentage of daily sales allotted. The fee is reduced proportionately to the percentage of daily sales you want to assign to repayment.
Business in a Box
The "Business in a box" solution is an all-in-one eCommerce solution designed specifically for small businesses. In collaboration with Xero and Woo Commerce, PayPal offers all-in-one business solutions. PayPal business accounts enable you to utilize partner services.
With the company in a box, you can take advantage of significant discounts on Xero and Woo Commerce services. PayPal, on the other hand, earns an affiliate commission. PayPal, on the other hand, is compensated by these partner services.
Cashback
PayPal announced in August 2017 that it would issue a Mastercard-branded credit card that would also offer cashback incentives.
The card earns 2% cashback on all transactions, has no annual fee, minimum redemption requirements, restrictions on how cash rewards can be used, and no expiration date.
PayPal offers cashback rewards to earn money when they refer a transaction to a retailer. They earn a share of the transaction volume by boosting spending at selected partners.
Pay in 4
PayPal introduced an installment payment plan in September 2020 called Pay In 4. The option enables consumers to pay for products ranging from $30 to $600 in four installments over six weeks.
Pay In 4 enables PayPal to compete with Affirm, founded by co-founders Max Levchin, AfterPay, and Klarna. PayPal currently earns money by charging consumers late fees. It may also tax merchants in the future, either monthly or per transaction.
Interchange Fees
PayPal provides consumers and companies with both debit and credit cards. These cards are issued in collaboration with Mastercard, a payment provider.
An interchange fee is imposed when you use your debit or credit card to make a purchase. The merchant is responsible for exchange fees, often less than 1%. Therefore, if you spend $100 on something, around $1 will go to Mastercard.
In exchange for advertising the card to its users, PayPal would then earn a percentage of the cost. The precise percentage share is not released publicly.
Interests from Money Deposited
If you retain some cash in your PayPal balance, you invest them in a bank account and earn interest on them. PayPal now has an additional revenue stream.
Users can open what is known as Cash Accounts, which allow users to maintain a balance and use it to send and receive money, pay for items online or in stores, and make payments, among other things.
The corporation invests the money in liquid investments that interest the cash held in the PayPal balance. PayPal earns interest and does not share it with you.
Like any other bank, PayPal lends the money in such accounts to other entities, such as banks. They then charge these institutions interest (also called Net Interest Margin). Net interest margins for all US banks were 3.35 percent in 2019, according to Statista.
Withdrawal Fees
If you opt to withdraw funds from your PayPal account, PayPal will transfer the funds to your bank account for free; however, there is a small cost if you prefer a check.
PayPal users also have access to money anytime, but at a cost. The company charges a fee when you use your debit card to withdraw cash.
Shipping Label
PayPal partners with the US Postal Service and UPS to provide shipping services to merchants using its platform. Merchants may take advantage of shipping discounts, order, and print shipping labels, track shipments, and subscribe to shipping coverage.
Merchants then pay a postage fee to the shipping suppliers indicated above. The service is entirely free. While the service is free, it is reasonable to believe that PayPal obtains a share of the logistics provider's shipment fee.
International Payments
PayPal charges a fee when you receive money from a foreign nation. The fees include currency conversion costs if a different currency is used and the international payment fee. Fees vary according to currency.
P2P Payment Withdrawal Fees
PayPal.me enables you to receive funds immediately via a customized URL. PayPal, on the other hand, costs you when you withdraw the funds. In the United States of America, the charges are 2.9 percent + $0.30 of the amount received.
PayPal Credit Interest
When you start a PayPal Credit account, you receive six months of promotional prices. During the offer time, you will not be charged interest on purchases over $99.
You are not required to pay for the credit as long as it is at least $99 and is paid in full within six months. On the other hand, PayPal imposes an Annual Percentage Rate (APR) of 19.99 percent on all other transactions beginning on the posting date, typically within a few days after the purchase date.
However, after the initial term of six months expires, PayPal credit charges a 26.24 percent interest rate on the remaining balance.
PayPal Here Fee
PayPal has given an offline payment solution to businesses using PayPal as a payment partner. It's a mobile application and a card reader that enables you to take payment via all major credit cards with the simplicity of PayPal.
PayPal enables companies and consumers to accept payment via any plastic card. There are three types of readers: costs ranging from 1.5 percent to 3.5 percent plus a preset transaction cost.
Other Sources Of Revenue
Paypal owns numerous other businesses, such as Braintree, Xoom, and Venmo, contributing to the company's revenue streams.
Advantage of PayPal
Simply put, PayPal is a swift and convenient way to send and receive money online. There are no restrictions on who you can send or request money from using PayPal.
Most online stores, public auction websites, and shopping websites, including eBay and Amazon, use PayPal. PayPal is a convenient way to purchase items online using a safe and secure internet account.
You can buy items from various online and highway retailers, including restaurants, gas stations, and market traders.
Along with satisfying your online shopping addiction, you can earn money (likely as more fuel for said shopping addiction). The money you accumulate in your account can be converted to cash or used to offset the cost of something else.
Can I Save Money with PayPal?
No, in a nutshell. PayPal will not pay you interest; instead, the company will deduct interest from your account.
Plus, if the company has any reason to suspect your account, such as money sitting there for an unusually long time, the company can suspend or freeze your account without notice. It's probably best to use PayPal to transfer funds for personal and business goals.
Who is the Owner of PayPal?
When eBay turned off PayPal in 2015, it ceased to be the company's majority shareholder. As a result, each eBay shareholder received one PayPal share for each eBay share they owned.
Soon afterward, PayPal entered the public markets, making it accessible to anyone willing to invest. As a result, PayPal's ownership structure has changed dramatically over the last few years.
Today, the Vanguard Group is PayPal's largest shareholder, holding a 7.60 percent stake. BlackRock is the second-largest shareholder with 4.46 percent, followed by Fidelity Management with 3.87 percent.
Final Thoughts About PayPal Business Model
PayPal began as a payment service and evolved into an X.com service following the merger of Confinity and X.com. The team behind the initial traction phase and before PayPal's agreement with eBay comprised brilliant individuals dubbed the PayPal Mafia.
Numerous former PayPal employees would contribute to the growth of a new startup that would become a critical part of the Silicon Valley landscape. Following the acquisition of eBay, PayPal grew to become a behemoth that now includes Braintree and Venmo.
PayPal is now a two-sided platform whose success depends on its ability to adapt to changing competitive and regulatory environments.
If you enjoyed reading this article, also check out, The Nike Business Model.