Everyone is familiar with WhatsApp – the text messaging app that took the world by storm and permanently replaced "SMS"!
However, with 1.6 billion users and a free app, how does Whatsapp make money? Furthermore, why did Facebook spend $17.9 billion to acquire WhatsApp?!
The solution is found in the WhatsApp business model. Though they never imagined their "small app" would attract this many users, their initial planning allowed them to gain traction quickly!
WhatsApp Business Model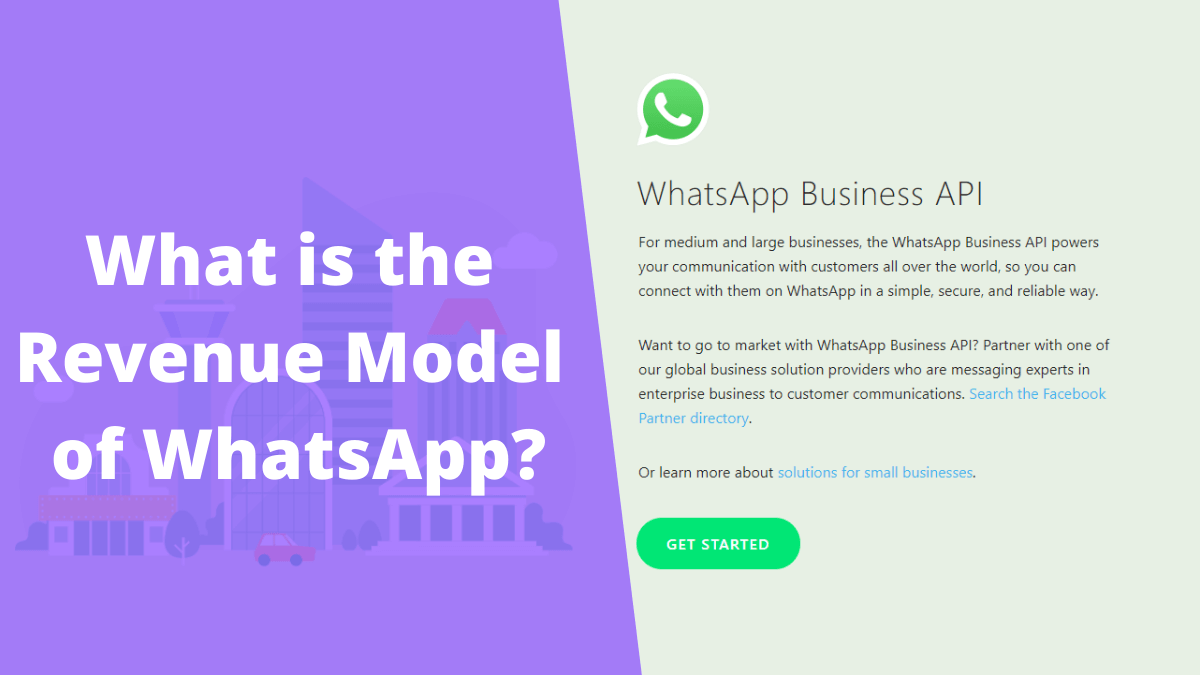 WhatsApp make money by charging subscribers to the WhatsApp Business API for slow/delayed customer responses.
After 24 hours, businesses are required to pay $0.003 to $0.005 per message if they respond to customer inquiries.
What exactly is WhatsApp?
WhatsApp was founded in 2009 by Jan Koum and Brian Acton.
They had previously worked for Yahoo! and had taken some time off.
Fun Fact – During their time off, WhatsApp's creators applied for a position at Facebook. Furthermore, guess what? Facebook rejected them! As a result, they started to work on "WhatsApp" as a side project.
Jan and Brian had no expectations for this side project.
However, unexpectedly, a large number of people began using WhatsApp shortly after its launch!
The application included a near-seamless transition from text messaging to multimedia messaging. As a result, more users started inviting their friends and family to participate.
By 2014, WhatsApp had grown to over 400 million users as a result of this viral impact.
Jan and Brian had no intention of monetizing WhatsApp. They were adamant in their conviction that advertisements detract from the user experience. Additionally, the founders claimed in their own words:
No one would wake up in the morning excited to look at ads! – Jan Koum
WhatsApp determined that the time had come to monetize the platform and added a small annual subscription package for $1.
On October 6, 2014, Facebook (NASDAQ: FB) purchased WhatsApp for $17.19 billion. The corporation issued approximately 178 million shares of Class A common stock in exchange for a cash payment of $4.59 billion.
Mark Zuckerberg, on the other hand, had other ideas. After all, Facebook's $1.6 billion overall revenues will be meaningless!
Due to their disagreements over how WhatsApp could be monetized, Jan and Brian agreed to exit their positions and sell their WhatsApp shares.
How Does WhatsApp Make Money?
WhatsApp actually earns money from two sources:
The subscription on the WhatsApp Business API Click-to-WhatsApp advertisements
There are possible future revenue streams in the works, and WhatsApp has been looking ahead to find monetization strategies for its 2+ billion monthly active user base.
Today, we'll discuss the two ways in which the free Whatsapp messenger works.
1. Subscription to the WhatsApp Business API
WhatsApp launched its first revenue-generating product, WhatsApp for Business API, in August 2018.
Since launching their WhatsApp Business application, they've been tinkering with the app to make it more business-friendly.
By 2020, many banks will provide banking on WhatsApp, and many larger brands will use the messaging app to communicate with customers and respond to help requests.
Additionally, businesses may use the WhatsApp Business API to submit customized updates containing non-promotional content such as shipping confirmations, event tickets, appointment reminders, or any other reminders.
The WhatsApp API is only accessible to a select few companies. You may apply for API access by completing this form.
WhatsApp does not restrict access to the API based on the location of businesses, nor does it impose restrictions on those businesses, such as the number of messages they must send every month.
This is another piece of disinformation floating around, as companies attempt to determine who is gaining access.
According to others, API customers must send at least 100,000 messages per month to be approved by WhatsApp during this preview process. WhatsApp asserts that this is incorrect.
What is the WhatsApp for Business Application Programming Interface (API)?
WhatsApp for Business API is an easy-to-use self-hosted solution that enables businesses to communicate with, interact with, and respond to their customers. It enables businesses to automate a large number of routine queries by responding to users via an automated chatbot that communicates via the business's API.
As a result, customer service calls decrease.
The only caveat here is that even if a company has your phone number, they must obtain your permission to deliver the message. That is it.
How does WhatsApp Make Money from its Business API?
Customers of WhatsApp's business API are paid per message received. Whenever a new business owner registers for the API, they are required to adhere to a tiered approach to the bulk message sending.
There are message tier restrictions, and each company begins with the lowest tier, Tier 1.
1K unique messages every 24 hours on the first tier.
Second Tier: 10,000 individual messages a day.
Third Tier: Each 24-hour period, 100K unique messages are sent.
Whatsapp for Business API – Whatsapp's sales model and how they make money
API Messaging Tier Limits for Whatsapp for Business
The tier limits are increased when WhatsApp senses that companies are sending higher-quality messages. As a result, the more business messages sent, the more money WhatsApp earns.
2. Advertisements with a click-to-WhatsApp button
Consider scrolling through your Facebook feed and coming across an advertisement for something cool! Wouldn't it be much more convenient to speak directly with someone from the company?
That is precisely what Click-To-WhatsApp advertisements accomplish. Consider the picture above. The "Send Message" button enables users to communicate directly with businesses via WhatsApp.
The advantage to businesses is straightforward: most people who use Facebook already have WhatsApp enabled on their devices. It lowers the contact barrier, and as a result, companies obtain the direct phone numbers of interested people!
3. How can Whatsapp generate revenue in the future – Potential revenue streams
The company is working to integrate WhatsApp Payment globally and make it simple for users of the WhatsApp business app to accept payments from customers without requiring them to leave the chat screen!
Between 2018 and 2019, WhatsApp was granted permission to conduct a test of Whatsapp Pay. It is currently undergoing testing in various countries and is currently available in Brazil.
Though we don't know when WhatsApp Pay will be available globally, it is currently available in two countries.
Revenue Sources and Business Model of WhatsApp
WhatsApp's value proposition is what motivated its creators to create it in the first place – "a product that people simply loved to use and wanted to wake up and look at."
WhatsApp's revenue streams
Subscription to the WhatsApp Business API
Advertisements in news feeds
Whatsapp Pay*
Ads on Whatsapp Status*
The above-listed methods are the future revenue generation streams for WhatsApp.
Growth and Marketing Strategy for Whatsapp
How did WhatsApp achieve its current level of popularity? And are you capable of replicating their marketing strategy for your own business?
Whatsapp was developed with the consumer in mind. Hence, every feature of the application is catered to a specific need expressed by users.
It blends smoothly with phone numbers, resembling standard text messages. It includes additional features such as multimedia messaging, which would be far more expensive via standard MMS.
And this "SMS substitute" app compelled users to recruit additional family and friends, resulting in a true viral impact.
Copies of their technique may not be feasible to replicate their performance. However, you should integrate a sharability element into your company to encourage users to promote it.
Word-of-mouth is the most effective form of marketing.
Frequently Asked Questions about WhatsApp
What is WhatsApp's revenue?
According to Forbes, WhatsApp generates annual revenue of about $15 billion on average, with an average revenue per consumer of $7.
What is WhatsApp Business, and how does it work?
WhatsApp company provides business owners with tools inside the application to display their product portfolio, automatically submit greeting messages, schedule autoresponders, and more.
What is WhatsApp revenue model?
WhatsApp generates revenue in 2021 from subscriptions to their Business API, click-to-WhatsApp advertising, and Whatsapp Payments.
Who is the owner of WhatsApp?
Facebook acquired WhatsApp in 2014, and the company now owns and operates the service. Jan Koum and Brian Acton, the company's owners, left shortly after its purchase.
What types of messaging is WhatsApp capable of?
Whatsapp allows for the transmission of text, pictures, and voice messages.
What is WhatsApp net worth?
WhatsApp is currently valued at $1.5 billion following a $200 million funding round led by Sequoia Capital.
Is it possible to raise money from WhatsApp?
Yes, you can earn money using WhatsApp by communicating with your customers through this platform. As with every other business transaction, you can conduct business on WhatsApp and sell your goods or services through a WhatsApp business account.
Final Thoughts
I hope you found this article enjoyable to read! We haven't discussed WhatsApp's competitors here because there aren't any that are as big.
Apart from Snapchat and Telegram, which attempted to compete with WhatsApp, the company has dominated the text messaging app space since its inception.
There is a great deal that goes into the development of companies and startup businesses.
And with their revenue model that we cover, we gain a better understanding of how the founders achieved success.
Keep an eye out for additional writeups!
And if you enjoyed this article, you can check out Revenue Model of Humble Bundle.