Afterpay Business Model | How Does Afterpay Make Money?
Afterpay has established a strong presence in both the Australian and international markets in less than five years. It has an expanding customer base adapting to its innovative interest-free payment framework that allows customers to purchase first and pay later.
With a market capitalization of more than $30 billion, Afterpay has revolutionized the "Buy Now, Pay Later" (BNPL) industry.
Afterpay's success requires an in-depth understanding of its value proposition, operations, and revenue generation. And in this article, we'll discuss exactly that, as well as debunk some of the myths surrounding the Afterpay Business Model.
What Is Afterpay?
Afterpay is a finance app that enables customers to pay for items in four installments. It collaborates with over 55,000 online merchants who have implemented its payment options.
Afterpay is a renowned "Buy Now, Pay Later" service that enables customers to purchase products from Afterpay's partner stores in advance and pay in four equal installments without incurring any additional fees or interest.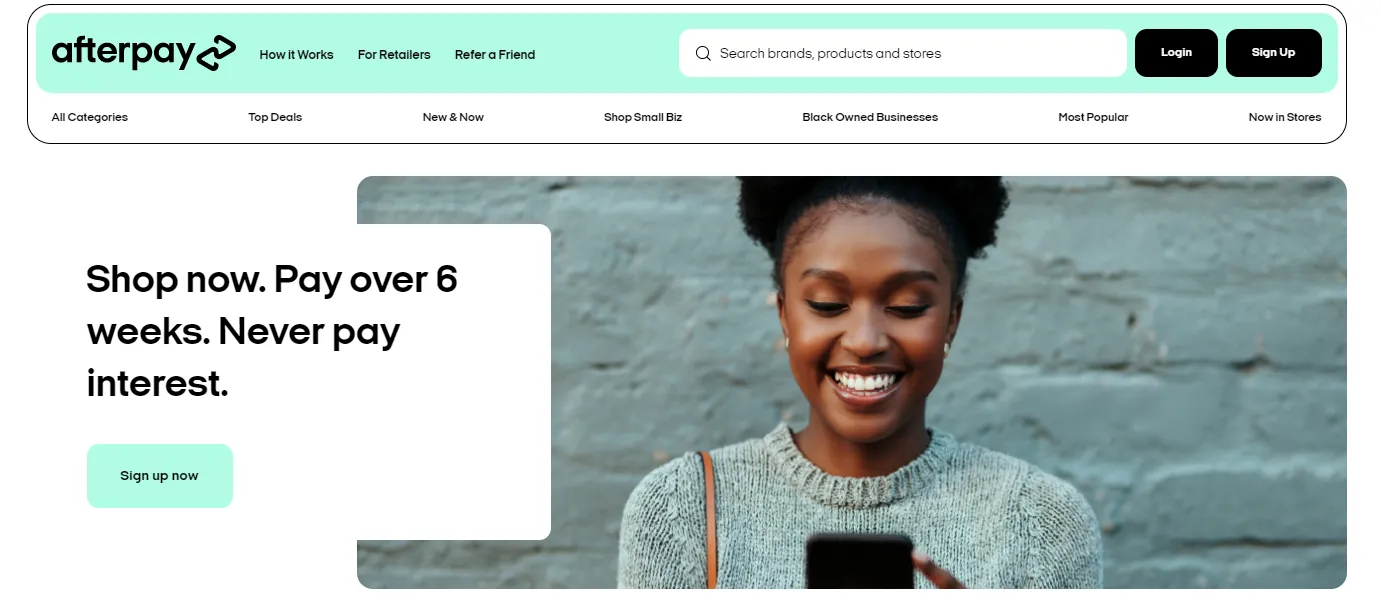 Afterpay earns money by charging merchants a fixed and variable (percentage) fee and late payment fees.
Afterpay was founded in 2014 and is headquartered in Sydney. It has grown to become a global leader in the 'Buy Now, Pay Later' space. The company went public in 2016 and has since grown to a market capitalization of more than $40 billion.
The company rose to prominence when the competition was low, and consumers required a service that allowed them to pay in installments without incurring interest.
Afterpay has merged with its technology provider, Touchcorp, and expanded its market beyond Australia over the years. Afterpay purchased 90% of the equity in Clearpay, a UK-based provider of BNPL services, in 2018.
How Does Aferpay Work?
Afterpay is a FinTech company that enables online shoppers to 'Buy Now, Pay Later.' Customers can choose to pay for their purchases in multiple installments.
Afterpay partners with some of the largest online retailers in the world, including ASOS, Pandora, The RealReal, Lululemon, and Forever 21.
This is how the service works from the customer's perspective: While checking out at an online store, you can select Afterpay as your default payment method.
Then, you'll be prompted to pay in four interest-free installments for your items. Afterpay is interest-free and charges no additional fees (as long as the items are paid on time).
If you fail to make a payment on time, Afterpay will prevent you from making additional purchases on its platform. Late fees may also apply, depending on your country of residence.
Afterpay enables consumers to order items for free and try them out before making a purchase. They can simply return them to the retailer if they are not to their liking.
Afterpay is currently available in the following countries: Australia, Canada, New Zealand, the United States of America, and the United Kingdom. Other countries, such as Germany, may follow suit in the near future.
Afterpay's platform is accessible via the company's website and smartphone applications ( Aferpay is available on Android and iOS devices).
What is the History of Aferpay?
Afterpay was founded in 2014 by Nick Molnar and Anthony Eisen in Sydney, Australia.
Despite being only 24 years old at the time of Afterpay's launch, Molnar already possessed considerable entrepreneurial experience.
He imported headphones from Japan when he was 14 to eventually sell them online.
While this particular venture did not succeed, it provided an invaluable lesson.
As a teenager, he worked in his parents' jewelry store, St Michel Internationale, in Sydney.
During his first year of university (Molnar studied finance at the University of Sydney on a rugby scholarship), he began selling excess inventory from the shop's supplier on eBay.
Molnar possessed an innate ability to persuade others from an early age. Thus, before selling the jewelry, he convinced his father to accompany him to the United States to meet the shop's supplier.
He then convinced the supplier to join him and become his sole partner.
Molnar's eBay shop generated $1.6 million from the jewelry by the second year of university.
Regardless of his early business success, Molnar always desired a career in investment banking.
After graduating from the University of Sydney, Molnar sought employment as an investment analyst at M. H. Carnegie & Co., Sydney-based private equity and venture capital firm.
The firm's managing director, Mark Carnegie, was also not a fan of his work as an investment banker.
He took Molnar aside one day and advised him to pursue his business, helping him earn five times what he earned as a banker.
If it didn't work out, he could always return to work for Carnegie.
That brief pep talk provided Molnar with the motivation he required to devote his full attention to his online business.
Molnar was able to seal the deal with one of North America's largest online jewelry retailers, Ice.com, to launch Ice Australia just a few months after going full-time.
Iceonline.com.au is still operational to this day and employs over ten people in its management.
On the other hand, Molnar has already moved on. However, let us rewind to 2012 once more.
At the time, Mark Carnegie was not the only person who witnessed Molnar's ambition and determination firsthand.
Molnar spent his days and nights in his small home office atop Ice.
A few street corners away, Anthony Eisen, was spending his nights as the Chief Investment Officer for Guinness Peat Group. He'd notice the young Molnar working long hours alongside him whenever he looked out his office window.
He approached him to ascertain what he was up to when he saw Molnar walking across the street.
That brief conversation cemented the two's friendship and served as the impetus for the founding of Afterpay.
When they began conceptualizing Afterpay in 2014, 'Buy Now, Pay Later' businesses were already sprouting up all over the world.
Affirm, or Klarna was able to achieve enormous valuations while raising millions.
Meanwhile, Australia lacked any startup developing a comparable solution, effectively leaving the field wide open.
Afterpay collaborated with Touchcorp Limited, a payment technology provider, to develop tools for processing transactions and detecting fraud. Touchcorp was granted a 33 percent stake in Afterpay as a result of its work.
Another early advantage the team had was that it had already signed up its first merchant partner. Afterpay began operations in early 2015. One of the organization's very first partners? Molnar's Ice is now available online.
The team's sole focus over the next few months was on expanding its merchant base. Being one of the first to market enabled Afterpay to quickly sign up those merchants.
Many have stated that Molnar's ability to persuade and sell has been instrumental in expanding that merchant pool.
Despite its rapid growth, it came as a surprise when Afterpay announced its intention to go public – which it eventually did in May 2016.
Afterpay's IPO valued the company at $150 million and enabled it to raise an additional $25 million.
In February 2017, one year after its initial public offering, Afterpay announced a merger with Touchcorp, one of its largest shareholders.
Afterpay was able to combine its extensive retail network with Touchcorp's sophisticated payment technology products due to the merger.
Afterpay Touchcorp (trading on the Australian stock exchange under the ticker APT) quickly established itself as the de facto leader in the Australian 'Buy Now, Pay Later' market space.
Afterpay continued to expand its reach with the additional resources. It launched its first iPhone application in May 2017 as part of its expansion into New Zealand, its first foreign market. That same year, the company celebrated its one-millionth customer – only two years after its launch.
Another significant source of growth for the business became testimonials. Celebrities such as Kylie Jenner frequently tweeted about the service, which drew many new customers.
It used that clout to acquire additional competitors in the process. Afterpay entered the UK market in 2018 by acquiring ClearPay Finance, a ThinkSmart Limited-developed 'Buy Now, Pay Later service.
However, not everything went according to plan. In 2018, the company encountered its first round of headwinds.
According to a field report by Ownership Matters, an Australian governance firm, the firm posed as a minor and purchased $300 worth of liquor via Afterpay's platform.
Afterpay was busted in 2019 for violating anti-money laundering laws by failing to conduct proper identity checks before 2018.
As a result, the company invested millions of dollars in strengthening its compliance with those laws. Soon after, the Australian Transaction Reports and Analysis Centre (AUSTRAC) ordered a report confirming compliance.
As with other 'Buy Now, Pay Later' services, such as Affirm or Klarna, Afterpay has come under fire from consumer rights advocates who claim that these services encourage people into debt they cannot repay while also proposing to regulate them.
Despite these setbacks, Afterpay has continued to expand its presence – both domestically and internationally. While the coronavirus pandemic has been detrimental to many businesses, it has allowed Afterpay to exponentially grow its business as customers flock to online shopping rather than brick-and-mortar stores.
Additionally, the company announced its largest acquisition to date when it acquired Pagantis, a Spanish-based 'Buy Now, Pay Later service, for $82 million.
Even a momentary change in leadership (Molnar was temporarily assigned the role of Chief Revenue Officer but has since been promoted to CEO of Afterpay's North America business) and increased competition (PayPal announced its own 'Buy Now, Pay Later' service in August 2020) have not stopped Afterpay from growing.
Today, Afterpay serves over 11 million customers globally, partnering with approximately 55,000 merchants. Additionally, the company now employs nearly 1,000 people across seven global locations.
What is The Afterpay Business Model?
The Afterpay business model is centered on its flagship BNPL service. Afterpay, in essence, incentivizes customers to shop at its partner stores via its payment plan.
It is structured similarly to a typical commission-based affiliate marketing business model, in which a business earns money from affiliate commissions.
The company is headquartered in Australia and operates subsidiaries in Canada, New Zealand, the United Kingdom, and the United States of America, all of which operate under the same affiliate marketing business model.
How Afterpay Makes Money?
Afterpay earns money by charging merchants fees and late payment fees. Additionally, the company generates revenue through its foreign subsidiaries, including Clearpay in the United Kingdom.
The following section will focus exclusively on revenue directly attributed to Afterpay, as its foreign subsidiaries follow a similar revenue model.
Merchant Fees
As stated earlier, Afterpay doesn't really charge customers for the ability to pay in installments.
Rather than that, the company is compensated by its merchant partners for each transaction processed through its payment service.
Afterpay charges merchants a flat fee of thirty cents per transaction. Additionally, merchants pay a variable fee that varies between 4% and 6%.
The actual percentage is determined by the value and volume of goods sold by a merchant. The more merchandise a merchant sells, the lower its fees are.
There are several reasons merchants might want to include a 'Buy Now, Pay Later' option on their platform.
To begin, Afterpay assumes the risk of payment default and, if necessary, debt collection.
Second, Afterpay claims that its installment options result in a 10% to 20% increase in average order value.
Finally, partnering with a well-known payment solution such as Afterpay frequently increases customer acquisition and conversion rates. Additionally, these customers return fewer products on average.
Merchant fees account for the lion's share of revenue generated by Afterpay (and its foreign subsidiaries).
Late Payment Fees
The second source of revenue is late payment penalties. These are charged whenever a customer fails to make a payment on time. Typically, the invoice specifies the due date.
If payment is not received on time, Afterpay will attempt to deduct the installment automatically from the customer's debit or credit card.
The company charges a $10 initial late fee. A $7 charge is added if the invoice is not paid within 7 days.
For orders under $40, late payment fees are limited to $10. Each order that exceeds the $40 threshold may be subject to a fee of up to $68.
Late payment fees have continued to decline as a percentage of total revenue in recent years.
Who are the Customers of Aferpay?
Afterpay is designed for customers who prefer to pay for their purchases in small installments rather than in one lump sum.
According to the Australian Financial Review (AFR), Afterpay's "active customers more than doubled to 9.9 million" in the 2020 fiscal year.
According to another AFR report, millennials are Afterpay's primary customer demographic (75 percent of all consumers).
Afterpay published a report on June 17, 2020, stating that their entire focus "shifts to the Gen Z customer" and promising to expand their customer base to include Gen Z as a primary demographic.
What Values Does Afterpay Provide To Customers?
Afterpay acknowledged customer requirements previously overlooked by many payment portals, establishing it as a major player in the Fintech industry. Afterpay upholds the following values for its customers:
Interest-Free Payments
Customers can purchase their desired items from partner stores and pay the remaining balance in installments without incurring additional interest charges. This is the primary value proposition offered by Afterpay to its customers.
Earn Reward Points.
Afterpay is well-known for rewarding customers with positive payment history, to the point where it launched a loyalty program called Pulse for on-time payments.
For example, customers with a good credit score can defer their first payout until two weeks after purchasing.
No Credit Check
Afterpay doesn't really report late payments and has no effect on its customers' credit score and credit rating. Rather than that, it takes other measures, such as suspending the defaulter's account till the issue is resolved.
What Values Does Afterpay Provide To Partner Merchants?
By connecting their online shops with Afterpay, partner merchants gain access to a variety of benefits, including the following:
Receive Payment in Advance.
While customers pay in installments, Afterpay pays its merchant partners the full amount for each purchase upfront.
Integration Of Online Store Is Simple.
Partner merchants can easily integrate their in-store or online stores with Afterpay using any major eCommerce or point-of-sale platforms (Magenta, Stripe, Shopify, etc.) and begin using its services immediately.
Increased total sales and average order value.
Afterpay's sophisticated payment solution has aided in the growth of its partner stores in the following ways:
Two out of every three small or medium-sized businesses report increased total sales.
Increase in estimated Average Order Value (AOV) of 10%-20%.
Payment Default Estimation.
Afterpay is constantly evaluating its customers' payment histories to determine the likelihood of defaults or late payments. It accomplishes this by allocating an individual spending limit based on various factors, including late payments, payment frequency, and many others.
Additionally, a merchant may elect to impose additional spending limits on its products to avoid payment defaults.
What are the Key Offerings of Aferpay?
Here is the list of Key Offerings provided by Afterpay:
Buy Now, Pay Later
Afterpay's primary service is "Buy Now, Pay Later." However, how does one receive it?
A customer can choose to pay in installments via Afterpay by visiting the merchant's website and following the steps outlined below:
Add items to your shopping cart.
During checkout, choose Afterpay as your payment method.
Authorize the payment by logging into Afterpay's account.
Finally, pay in four installments, with each payment occurring every two weeks.
In short, a customer needs only select Afterpay as a payment method and follow the prompts to complete a safe and secure BNPL transaction via the Afterpay platform.
Pulse
Pulse is a loyalty program that rewards members for making on-time payments by offering them exclusive rewards for shopping responsibly and paying on time. A customer can use Pulse to:
Defer the initial installment for two weeks.
Dates of payment due to be rescheduled More than twice as much as a non-Pulse customer.
Purchase gift cards and pay in four installments.
Gain access to special offers.
To be eligible for Pulse, a US customer should make 30 or more on-time payments on orders of $40 or more within six months, with no more than three late payments, and accept the Pulse Terms USA.
Who are the Partners of Afterpay?
Ecommerce And POS Platforms
These include various certified eCommerce and point-of-sale (POS) systems that enable a merchant's business (in-store or online) to integrate seamlessly with Afterpay.
Afterpay has partnered with many leading eCommerce platforms, including Magento, Stripe, Neto, and Shopify.
Cegid, Simple Salon and Retail Express are just a few of the leading point-of-sale platforms which have integrated Afterpay into their systems.
Merchant Stores
Afterpay's "Buy Now, Pay Later" payment plan is available at over 48,000 merchant locations.
Partner merchants enable this service by including it as a check-out option and listing their store in Afterpay's Store directory, accessible via the Afterpay website and app.
Adidas, Kylie Skin, Fight Club, Goat, DSW, Bed Bath & Beyond, Ulta Beauty, and Revolve are just a few of the high-profile brands that have integrated Afterpay into their stores.
Which Distribution Channels Does Afterpay Utilize to Provide Value to Its Customers?
Afterpay has its own website to connect its affiliated retailers' online stores (partner merchants). Additionally, it has an application for Android and iOS devices.
To use the BNPL service, customers must simply choose the Afterpay payment option during the checkout process and follow the on-screen instructions to complete the transaction.
Additionally, they can redeem the benefits of Afterpay's reward program, Pulse, by logging into their account on their device.
How does Afterpay Keep its Customers Happy?
Afterpay is, at its heart, an automated service. Users interact with the application when they make a purchase or take advantage of other benefits such as exclusive offers or rewards for responsible spending.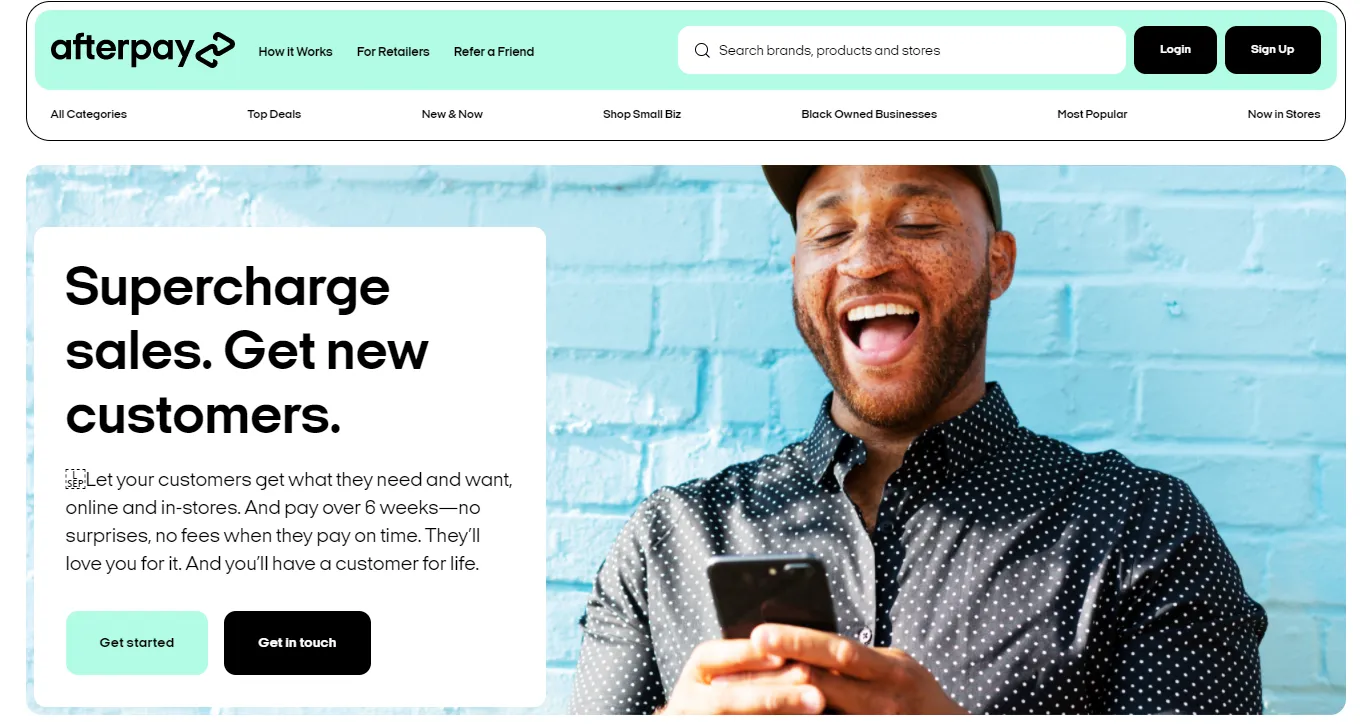 However, the user-friendly interface on its dedicated website and mobile apps add a personal touch to the shopping experience.
Additionally, a user can subscribe to the company's newsletter to receive store alerts, special offers, and other updates via email, laying the groundwork for a more meaningful customer relationship.
What is the Revenue Model of Afterpay?
Customers do not pay any interest or additional fees to use Afterpay's service. Instead, Afterpay makes money through commissions from partner merchants and monetary penalties imposed on late-paying customers.
Late Payment Fee
The penalty that Afterpay imposes on customers who do not make on-time payments is another source of revenue for the company.
The Late Fee "will be levied, up to a maximum of $8.00 and in no event will exceed maximum late fee permissible by applicable state law," according to Afterpay's Installment Agreement – USA.
Furthermore, the total amount of Late Fees associated with a single order will not surpass 25% of the purchase value at the time of purchase."
Afterpay claims that affiliate commissions generate more revenue than late payments. As a result, when a customer misses a payment, it prevents them from purchasing additional items.
How Much Funding did Afterpay Raise?
Afterpay has successfully raised a total of $448.7 million in three rounds of funding, according to Crunchbase. Coatue, Tencent, and Mitsubishi are among the investors. During its initial public offering (IPO) in June 2017, the company raised an additional $25 million.
What is the Current Valuation of Afterpay?
Afterpay was valued at $1.6 billion at the time of its IPO. The company's value has risen to over $42 billion at the time of writing.
What is the Revenue of Afterpay?
Afterpay reported $519.2 million in revenue for the fiscal year 2020, up 97 percent from a year earlier ($264.1 million). During the same time, the company lost $22.9 million, a decrease from the $43.8 million loss it had in 2019.
Also, Read about, How Does Venmo Make Money?
What is the best way to use Afterpay responsibly?
You can do a few simple things to ensure that you're properly managing your Afterpay account and avoiding financial trouble.
Make a budget and stick to it.
Although Afterpay's approval algorithm is intended to keep you from taking on more than you can handle, you should not rely on it. Make sure you do the math on your budget and figure out how many purchases you can afford to pay off at once. It's a good idea to create aside money to pay bills and expenses, some for savings, and then your Afterpay budget with the rest.
Use a Debit Card instead of a Credit Card.
By only linking your debit card to Afterpay, you can avoid accumulating credit card debt. This way, you can spread out large expenses to make them more manageable while still spending money you know you'll have in the future (assuming you stick to your budget!).
If necessary, Reschedule your Payments.
If you think you won't be able to make an upcoming payment on time, Afterpay lets you reschedule it for up to five days at a time with each update. You can avoid a late fee and any negative activity on your account by doing so. Just remember that you can only do this three times per year.
Checkout, How Does Zoom Make Money?
What is the Risk of Using Afterpay?
A merchant could enable Afterpay on their website for three reasons. The merchant may make a sale that it would not have made otherwise, resulting in an increase in revenue.
It is collecting cash upfront, which helps to improve its financial position. In addition, the merchant avoids the risk of not being paid if a customer defaults.
However, if the customer defaults and does not pay the amount due, Afterpay faces a risk. The Afterpay business model is similar to non-recourse factoring.
Factoring accounts receivables come in two flavors: with and without recourse. The borrower will return unclaimed debts to the business when factoring with recourse.
The lender is responsible for collecting unpaid invoices from the customer and cannot return them when factoring without recourse. In other words, the business retains the risk of non-payment when factoring with recourse.
Also, checkout, How Does Honey Make Money?
Final Thoughts on Afterpay
Following its success in Europe and the United States, Afterpay is now looking to expand its operations to Asia.
According to official reports, this transaction will be completed with the acquisition of EmpatKali, a BNPL company based in Asia.
Over the years, Afterpay has partnered with over 48,000 merchant stores, integrated with multiple eCommerce and POS platforms, and amassed a large international customer base.
This demonstrates Afterpay's commitment to expanding its market and leaving a lasting mark on the BNPL industry globally.
It makes one wonder if, in the first five years of its operations, Afterpay has already become a household name in many countries and where it will be in the next five or ten years.
If you enjoyed reading this article, also read How Robinhood Makes Money?