Flexport, Inc. is a company that provides customs brokerage and freight forwarding services online. This organization provides organizations with an online dashboard that allows them to identify, order, manage, and track the services needed for international trade.
The company offers customs brokerage services, including clearance of goods, customs bonds, classification of products, government agency filings, ocean freight, full containers, less than containers, air freight, and trucking.
Flexport business model aims to provide a more seamless shipping experience to customers at a lower price than is currently available.
It offers other supply chain management services, including shipping insurance, quality assurance, warehousing and fulfillment, product procurement, and trade finance.
What is Flexport?
Flexport is a technology-driven freight forwarder that assists other businesses with the transportation and storage of goods globally.
Flexport, in contrast to conventional freight forwarders, uses technology to assist the transportation process, offering its customers greater transparency.
Flexport's business model is built on a variety of services related to the transportation of commodities.
Their primary source of revenue is through freight transportation fees. Other revenue streams include warehousing products, customs brokerage, shipment insurance, and trade financing.
It has proven to be a successful model so far. This company was founded in 2015 by a successful American entrepreneur and has been valued at $3.2 billion with $1.3 billion raised in venture capital. Currently, the business employs around 2,000 individuals in 14 locations across the world.
| | |
| --- | --- |
| Company Name | Flexport |
| Company Type | Private |
| Founders | Ryan Petersen |
| Product | Freight forwarder |
| Owner | Ryan Petersen |
| Founded Date | 2013 |
| Headquarter | San Francisco, California, United States |
| Location Served | Worldwide |
| Website | https://www.flexport.com/ |
How Does Flexport Work?
Flexport is a technology-enabled freight forwarder that offers logistics services to other enterprises. It offers tracking, analytics, and other technologies that can help enterprises move items globally.
The shipping of small parcels and individual items worldwide is simple, but shipping large parcels (often above 150kg) presents greater challenges.
The company must be aware of local laws, obtain proper clearance, and ship goods on time without damaging them.
It has traditionally been the responsibility of so-called freight forwarders.
This freight forwarders network ensures the highest quality of shipments since they specialize in their respective fields and have extensive market experience.
Cargo forwarders have to communicate frequently via email, fax, phone, and spreadsheets to coordinate the cargo.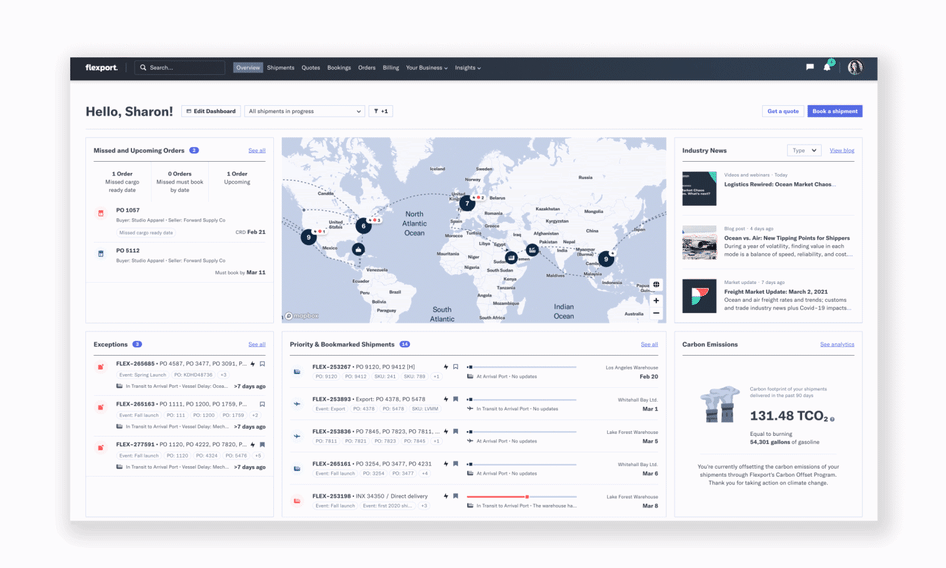 The use of the telephone or fax is becoming obsolete when software has taken over our everyday lives, and that practice is also extremely inefficient.
A black box also results in opaque costs, and sometimes logistics companies can track shipments.
Flexport introduces a suite of software products for the management and tracking of logistical activities.
Their fleet management software is integrated after that.
Flexport specializes in ocean, air, and truck transportation. These activities are either outsourced to other organizations (for example, ocean shipment via vessel) or are managed by their fleet (Flexport, for instance, charters their airplane).
Additionally, Flexport provides supply chain management services in support of the cargo. For example, it can manage customs clearance and provide shipment insurance.
Flexport Business Model
The revenue model of Flexport is multi-pillared. Software is frequently utilized both on the customer site and internally to maximize the delivery of their services.
Let's take a closer look at each revenue stream.
Goods Shipment
A majority of Flexport's revenues come from the transportation services it provides to its diverse commercial clients.
There are several modes of transport, depending on the route and nature of the goods.
Moreover, Flexport manages storage in its warehouses or those of its third-party storage partners. A third party may handle the transportation, or an internal team may handle it.
Flexport has a data bank of various historical shipments, and its system is digitally equipped, allowing customers to get a quote upfront.
Flexport retains all revenue or shares it with the partner, depending on which shipment activities are performed by Flexport or a third party.
Flexport charges storage fees when products must be stored for an extended period of time.
Flexport also operates third-party warehouses in certain regions or owns its facilities in others.
Flexport's competitive advantage lies in its ability to provide transportation prices in advance, but unplanned costs can still occur. The superimposed quotations are superimposed over the initial quotation.
Insurance
Some businesses handle commodities worth millions of dollars that could become unsellable if they are destroyed.
Typical events include the following:
Theft or misappropriation of goods
Water leaks, truck accidents, and torn boxes, for example, may cause damage.
The insurance protects against a protracted procedure, including legal claims and court appearances.
Flexport and any other modern freight forwarder offer insurance on the shipment to protect you against damage or loss.
The insurance is provided in collaboration with Marsh, one of the largest insurance brokerage firms worldwide.
A shipment's value, its freight expenses, and its tariffs determine the insurance premium.
Customs Brokerage
Businesses that export goods internationally are responsible for paying customs duties on entering their desired country.
Import procedures can be difficult to complete, and claims can be complicated depending on the country.
This is why local customs brokers are frequently involved in handling this element of logistics.
The supply chain management services offered by Flexport also include customs brokerage services.
The customer's quote is adjusted by a percentage fee based on the amount, type, and value of the items that have to be transported and the country where the items are imported.
It is frequently possible to estimate customs charges in advance so that unpleasant surprises can be avoided.
Trade Financing
The World Trade Organization estimates that trade finance accounts for 80-90% of global trade. Companies use it to provide additional infrastructure development, such as warehouses, vehicles, or staff.
Flexports collects data created by the shipments of its clients, which enables it to estimate if a borrower requires additional funds accurately. Flexport Capital distributes and manages the loans on its behalf.
Flexport doesn't publicly disclose the trade financing options it offers, but they probably fall into one of the following five categories:
A cash advance
Credit for trade
Long-term loans
Discounts on receivables
Finance backed by assets
The interest on the loan generates revenue.
What is the Funding and Valuation of Flexport?
Flexport has raised nearly $1.3 billion in six rounds of fundraising, according to Crunchbase. The company raised $1 billion in its most recent Series D round (February 2019). This increased Flexport's market capitalization to $3.2 billion.
SoftBank led the round. Founders Fund, DST Global, Cherubic Ventures, Susa Ventures, and SF Express are further notable investors in the company.
What is the Revenue of Flexport?
Flexport announced revenue of about $500 million for the fiscal year 2018. However, the revenue of Flexport fell to $341 million in 2019. The recent figure about revenue of Flexport is not available.
Additionally, the organization employs close to 2,000 people across 14 different locations. Flexport collaborated with over 10,000 customers in 200 different countries as of their most recent funding round.
Is Flexport a Public Company?
Flexport is not a publicly traded corporation as of July 2021. As a result, it will continue to be privately financed for the time being.
Venture capital finance is the primary method of investing in a business (along with its revenue). The company has not yet announced plans to go public.
Success Story of Flexport
Flexport was founded in 2013 by Ryan Petersen (CEO), a graduate of the University of California, Berkeley, and Columbia Business School.
Petersen was exposed to entrepreneurship at an early age. He worked for his father's software company that provided regulatory compliance services to large food producers.
He also saw his mother start Novigen Sciences, an engineering consulting firm eventually acquired by Exponent.
Petersen and his brother started eCommerce businesses (both on marketplaces like eBay and their websites) when they were in their teens and throughout their time at Berkley.
They earned more than $5 million per year by selling goods imported from China at a discount.
They were able to experience first-hand the agony of shipping large quantities of goods across continents.
Petersen subsequently relocated to China to streamline sourcing and locate new products.
Petersen was regularly exploring business concepts while working on his MBA at Columbia (majoring in Entrepreneurship).
This was the founding of ImportGenius in 2007 (a year before he graduated), a search engine and business intelligence tool for international shipping information.
Importers and exporters could keep track of shipping costs and adjust their pricing as necessary using the application.
Petersen quit as CEO of ImportGenius.com in 2013 and founded Flexport the following year.
Petersen sought to build a digitally-enabled freight forwarder after witnessing first-hand the inefficiencies of the shipping industry.
The business quickly became a success, with monthly income increasing by an average of 25% per year for the first three years.
Flexport was recognized as the eighth fastest-growing company in the United States in 2018, having grown by 15,911 percent overall since its founding.
Flexport employs nearly 2,000 people in 14 locations worldwide. Small and large businesses benefit from it, including Sonos, Bombas, and Zalora.