Mix Bikini Shark Tank Update | Mix Bikini Net Worth
Mix Bikini, which appeared on Season 3 of Shark Tank, is an innovative swimwear product designed to provide customers with a personalized and creative way of designing their bikinis.
The primary feature that sets this product apart is its mix-and-match model. This allows the user to choose from a variety of colors, patterns, and styles for the top and bottom parts of the bikini, effectively creating a bikini that is unique and personal to their tastes.
The components of Mix Bikini are designed to be interchangeable, meaning users can swap out parts at will, giving them a virtually unlimited number of possible combinations.
Customers who love expressing their creativity through clothing may find this appealing, especially those seeking a way to stand out at the beach or pool.
The product is a great choice for several reasons. The flexibility of design offers a level of customization rarely seen in swimwear, allowing users to express their personality and style uniquely.
Mix Bikinis are potentially more economical since the components are interchangeable. Customers could buy a Mix Bikini and several different components instead of several bikinis, making each bikini more affordable overall.
Mix Bikini's focus on individual choice and self-expression aligns well with current trends in fashion and retail, which increasingly value personalization and the opportunity for customers to participate in the design process.
| | |
| --- | --- |
| Company Name | Mix Bikini |
| Entrepreneur | Frank Scozzafava and Adam DiSilvestro |
| Product / Business | Bikini tops and bottoms can be interchanged and reversible |
| Investment Asking For | $50,000 for 5% equity in Mix Bikini |
| Final Deal | $50,000 for 10% equity in Mix Bikini |
| Shark | Barbara Corcoran |
| Mix Bikini Episode  | Season 3, Episode 14 |
| Mix Bikini Business Status | Out Of Business |
| Mix Bikini Website | Visit Website |
| Mix Bikini's Net Worth | $0 |
What Is Mix Bikini?
Mix Bikini is a swimwear brand offering a unique concept where customers can mix and match different bikini tops and bottoms to create personalized swimsuits.
Mix Bikini's main concept allows customers to mix and match different bikini tops and bottoms to create unique swimsuit combinations. This allows individuals to express their style and preferences while enjoying a comfortable and fashionable swimwear experience.
Mix Bikini offers various bikini tops and bottoms in various colors, patterns, and styles. Customers can choose from various options, including triangle tops, bandeau tops, halter tops, high-waisted bottoms, cheeky bottoms, and more.
The brand focuses on providing high-quality materials and designs that are stylish and durable. With the Mix Bikini concept, customers can create multiple looks using a few key pieces.
Mix Bikini allows versatility in their swimwear wardrobe without purchasing numerous complete sets. The brand aims to empower individuals to embrace their creativity and individuality regarding their beach or poolside style.
Who Is The Founder Of Mix Bikini?
Mix Bikini is the brainchild of entrepreneurs Frank Scozzafava and Adam DiSilvestro. The concept of Mix Bikini was inspired by a television commercial for a swimsuit that Scozzafava and DiSilvestro saw.
Recognizing the excitement and demand of summer and the opportunity to show off "bikini bodies," they identified a gap in the market.
They knew that having a vast selection of swimsuit choices is always appreciated, leading them to create an original line of bikinis, allowing women to mix and match various bathing suit styles and patterns. Mix Bikini, a bikini that could be customized into 500 combinations, was the result.
Before appearing on Shark Tank, Scozzafava and DiSilvestro realized that their concept resonated well with the women who had bought their products. However, they were keen on taking their venture to a higher level of success.
Recognizing the need for business and marketing expertise to guide them in the right direction, they decided to pitch their innovative swimwear concept on ABC's Shark Tank.
They presented their business seeking an investment to expand their line further and take it to new heights.
How Was The Shark Tank Pitch Of Mix Bikini?
The Shark Tank pitch for Mix Bikini was presented by two partners seeking a $50,000 investment for a 5% stake in their company, valuing Mix Bikini at $1 million.
The idea behind their product, Mix Bikini, was a novel approach to women's swimwear to solve the problem of seeing someone else wearing the same bikini at the beach.
The solution was to create the first interchangeable swimsuit line, with all pieces sold separately, allowing women to mix and match different prints and colors and change their look without buying a whole new set.
The Mix Bikini concept was explained in detail, and ordering a custom Mix Bikini was highlighted as simple via their online store. They also revealed plans to build kiosks in mall centers, costing around $25,000 each.
Their current sales were minimal due to a recent soft launch, but they were optimistic about future earnings, especially given that each part of the bikini was priced at $9.99, meaning a whole set would cost between $40 and $50.
However, the sharks weren't wholly convinced by their business model and valuation. When Daymond John pointed out that their ask of $50,000 for a 5% stake implied a company valuation of $1 million, the partners countered that they were willing to give up 10% of the business, which still implied a valuation of $500,000. This created confusion and a loss of some professionalism, as the initial offer was for a 5% stake.
Kevin O'Leary suggested licensing their idea to big companies, which was deemed one of many possibilities. However, the Sharks felt the business lacked a clear direction and were dismayed when the partners sought guidance rather than demonstrating a firm plan.
Despite the criticism, the partners insisted their business could thrive in the multi-billion dollar industry and mentioned they had around $500,000 to invest, though they sought marketing expertise from the Sharks.
Barbara Corcoran was the only Shark to show interest in the business, proposing an offer of $50,000 for a 25% stake, which the partners quickly accepted.
However, despite this investment, the business did not fare well post-Shark Tank. They eventually left the company due to problems with their website, which led to substantial sales losses.
The business was rebranded as Versakini by a creative partner, Kelsey Duffy, and found some success, making over $8 million in revenue in 2018.
Unfortunately, by 2022, the company had no products for sale and eventually shut down. The founders pursued different ventures after their departure.
Final Deal: Barbara Corcoran agreed to invest $50,000 for 25% equity in Mix Bikini.
What Happened To Mix Bikini After Shark Tank?
Following the Shark Tank pitch, Mix Bikini, as it was originally named, faced a few ups and downs before ultimately shutting down. The company faced significant challenges despite striking a deal with Barbara Corcoran for a $50,000 investment in exchange for a 25% stake.
After their appearance on Shark Tank, their website crashed and remained out of service for a week, which resulted in an estimated loss of $200,000 in sales. This devastating blow to the fledgling company led to Barbara Corcoran cutting her losses.
The founders, Adam and Frank, left the company after these setbacks. However, Kelsey Duffy, one of their creative partners, salvaged the business by rebranding it as Versakini.
In collaboration with Amanda Perna, a former Project Runway designer, they worked on the bikini designs. Despite the shift in direction and higher pricing, the brand resonated with customers. In 2018, Versakini reportedly generated more than $8 million in revenue.
However, this success did not last. By early 2022, Versakini had no products for sale despite the website being live. The company's social media pages also went inactive, with the last update in January 2018.
Eventually, the website went offline, and the Versakini brand ceased to exist. According to Kelsey Duffy's LinkedIn profile, the company officially shut down in 2018.
Following their departure from the company, Adam and Frank pursued new ventures. Adam started DiSO'S, an Italian food truck business in New York that was featured on The Great Food Truck Race in 2015.
On the other hand, Frank started Scootaway, a scooter ride-share program. However, as of 2023, Scootaway appears to have gone out of business.
Mix Bikini Shark Tank Update
After appearing on Shark Tank and securing a deal with Barbara Corcoran, Mix Bikini faced several challenges that ultimately led to the company's downfall.
The first setback was their website crashing after their segment aired, which took them a week to fix. This resulted in an estimated loss of $200,000 in sales.
Additionally, the brand experienced difficulties maintaining its online presence, as its social media pages haven't been updated since January 2018. By early 2022, Mix Bikini ceased selling any products despite their website being up.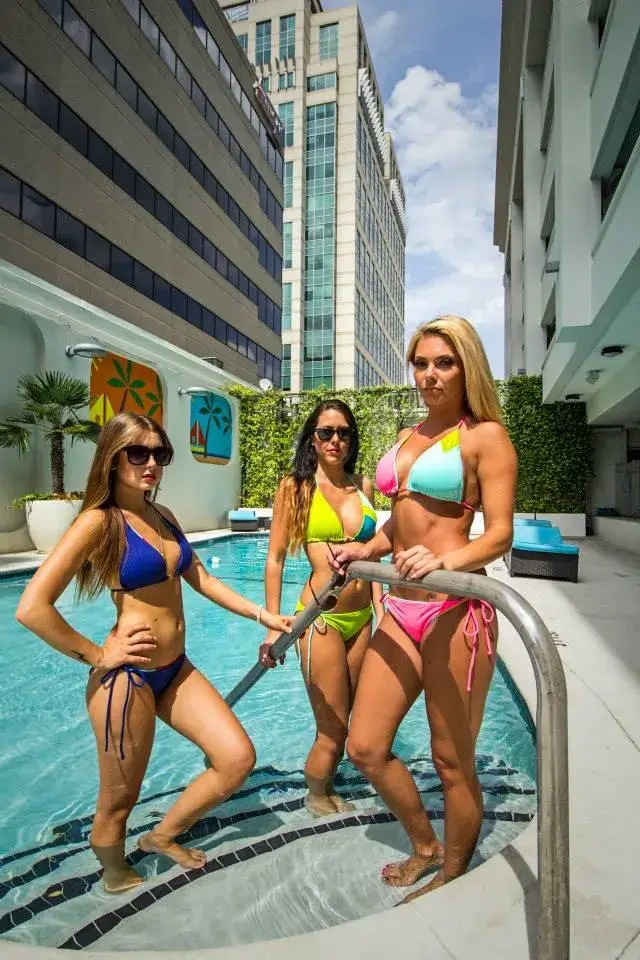 The company has completely abandoned its online presence, and its website is no longer connected to a Shopify store. According to Kelsey Duffy, one of their creative partners, the company officially shut down in 2018.
Since then, she has pursued other career opportunities. As for the founders, Frank Scozzafava moved on to create Scootaway, a scooter ride-share program, while Adam DiSilvestro started DiSO, an Italian Food Truck.
Is Mix Bikini Still In Business?
Our research shows that Mix Bikini, also known as Versakini, appears out of business. The last Facebook posting is six months old, and the Twitter account has not been active this year.
The first retail location at the Westfield Brandon Mall in Florida, mentioned in the update, is closed according to the mall's directory.
While Barbara Corcoran's website still mentions the deal with Mix Bikini, it is unclear if she is still involved with the company. According to the information, Mix Bikini had a promising start but ultimately shut down.
What Is the Net Worth of Mix Bikini?
According to our research, the net worth of Mix Bikini is $0 since the company is out of business. The valuation of Mix Bikini was $500,000 after securing an investment from Barbara Corcoran on Shark Tank.
Also, read other businesses that appeared on Season 3 of Shark Tank: