12 Best Zabasearch Alternatives To Search Your Old Friends and Relatives
Zabasearch is an online search engine that allows users to search for public records and other information. It was launched in 2006, and since then, it has grown in popularity as a go-to source for people looking to learn more about someone's background.
Zabasearch provides access to a vast database of public records, including but not limited to criminal records, marriage and divorce records, property tax records, and more.
The power of Zabasearch lies in its expansive database – it offers an extensive listing of information from third-party sources like county recorder's offices, state archives, department of motor vehicles registration databases, and much more.
Since this data is so wide and varied, users can conduct deep background searches on anyone with their name or address. You can easily find information about home values, past addresses, court filings, and more through Zabasearch.
12 Best Zabasearch Alternatives
Zabasearch is one of the most frequently used search engines for online searches of people. This engine has been around for many years and has helped countless individuals find the information they need.
However, other options can be as useful in a person's search process. In this article, we will explore some of the top Zabasearch alternatives that offer different features and benefits.
1. Intelius
Intelius is a leading provider of background checks, people search, and other services. Intelius provides access to millions of public records from thousands of sources across the US and Canada, making it one of the most comprehensive background check services available.
With Intelius, users can search for individuals by name, phone number, or address. It also offers reverse phone lookup to help identify who owns a particular phone number.
Intelius also offers real-time identity monitoring that helps protect users from identity theft. The service will alert you if your personal information appears in public records or if someone uses your identity online.
Intelius also offers employment screening services so employers can quickly and easily review potential employees' backgrounds before hiring them.
In addition to its background check services, Intelius offers several other features, such as financial health checks to help you monitor your credit score, credit report summaries, and alerts to keep you informed of changes in your credit report.
They also offer an email change notification service that notifies you when someone tries to change the email address associated with an account or profile online.
2. Spokeo
Spokeo is a website and mobile app that provides an easy way to search for people. It aggregates data from public sources, including social networks, government databases, and more. Spokeo lets users quickly find information on anyone they're curious about.
The website uses advanced search technology and filters to help users locate the necessary information. Users can search by name, email address, phone number, or physical address. They can also narrow their results by city or state.
People searches can reveal details about someone's age, family members, education level, current job title and employer, past jobs, address history, criminal records (if any), social media profiles (if available), and much more.
In addition to people searches, Spokeo offers reverse phone lookup services, allowing users to find out who is behind a particular phone number—whether it's a landline or mobile number. This feature can be particularly helpful for tracking down prank callers or scammers.
Finally, Spokeo offers a background check service that provides comprehensive reports on individuals based on their name and date of birth. These reports include detailed information such as criminal records (if available), financial troubles (like bankruptcies), marriage/divorce records, and more.
3. BeenVerified
BeenVerified is a powerful online background check service that helps people identify and verify their personal information. It provides detailed reports on people, businesses, and properties in the United States.
With BeenVerified, you can access public records, contact information, criminal records, marriage records, and more. BeenVerified's main purpose is to help users discover the truth about themselves or others. Different levels of membership are available depending on what you need.
All reports include a person's name, address history, phone numbers, age range, possible relatives and associates, and more. You can also receive alerts when new information is added to someone's profile.
BeenVerified has an extensive database of over 2 billion records collected from credible sources such as court documents, state and county records, and law enforcement agencies.
BeenVerified reviews each record for accuracy before making it available to its members to ensure accuracy.
In addition to providing comprehensive background checks on individuals and businesses, BeenVerified offers other features such as identity protection services, including monitoring your credit score changes and alerting you when suspicious activity is detected; reverse phone lookup; email search; property search; marriage records search; motor vehicle search; Social Security number verification; financial data searches; sex offender registry search; National Criminal File search; Federal Court Records search and more.
Overall, BeenVerified is an invaluable tool for anyone who needs to access reliable background information quickly and easily.
4. PeopleFinders
PeopleFinders is an online search engine and data service providing users access to public records and other information related to people. It is one of the largest and most comprehensive people search services available, offering a wide range of features to help you find whatever information you need.
PeopleFinders allows you to find anyone in the United States online by entering their name or address. The service searches millions of public records, including marriage and divorce records, court filings, criminal records, property records, addresses, and phone numbers.
PeopleFinders also provides access to background checks for individuals or businesses, as well as reverse phone number lookups and reverse email lookups. All searches are conducted quickly and securely through their secure servers.
The results of your searches can be used to trace family members or old friends, verify identities before employment decisions, investigate potential business partners, uncover criminal activity, or simply learn more about someone's past. This type of information can be invaluable in helping you make informed decisions about who you associate with or do business with.
PeopleFinders also offers a variety of additional features such as "People Search Alerts," which notify you when new information appears on an individual's profile; "Identity Reports," which provide detailed information about an individual; "Property Records," which provide information about a property owner; "Criminal Records" which provide details on any criminal history; "Background Checks" which allow users to perform comprehensive background checks on individuals or companies; "Reverse Phone Lookup" which allows users to locate the owner of any telephone number quickly; and more.
Overall, PeopleFinders is a great resource for anyone looking for reliable public records and personal data about people across the United States. Its extensive range of features and easy-to-use search tools provides an invaluable source of information that can help you make better-informed decisions in life.
5. Instant Checkmate
Instant Checkmate is a comprehensive public records search service that provides individuals access to various public records from all over the United States. It lets users quickly and conveniently search for information, including criminal records, bankruptcies, liens, judgments, evictions, marriage licenses, and more.
The service is intuitive and easy to use, allowing users to search for information using either name or address information quickly. The results are organized, doing reading and comprehending the data is easy.
Instant Checkmate also offers additional features such as background reports that provide detailed personal profiles, including past addresses, phone numbers, aliases, relatives, associates, and any associated criminal records.
Additionally, they provide reverse phone lookup, allowing users to identify who owns a particular telephone number by entering it into their service.
Overall, Instant Checkmate is an excellent way for individuals to uncover important information about themselves or others quickly and conveniently.
The robust database allows users to access detailed results within seconds providing peace of mind when conducting important research and investigations.
6. PeopleLooker
PeopleLooker is an online public records search service that offers in-depth personal information and background checks. The company provides access to billions of records available in national and international databases, helping you quickly and easily find the information you need quickly and easily.
With PeopleLooker, users can search for people across the United States, perform background checks on potential employees or tenants, and even look up phone numbers and addresses.
PeopleLooker's database includes criminal records, property records, and contact information. PeopleLooker also has a powerful reverse phone lookup feature to help you identify unknown callers or texts. Additionally, their reports include address history tracking so that you know if someone has moved recently or not.
With PeopleLooker's Social Search feature, users can get detailed insights into a person's social media accounts, such as Facebook, Twitter, Instagram, and more. This allows you to research people before hiring or doing business with them thoroughly.
PeopleLooker offers an email search tool that helps you find out who owns an email address by searching the owner's name and location in their database. This is especially helpful if you are trying to track down someone you don't know personally but have been in contact with via email previously.
Overall, PeopleLooker provides comprehensive public records data so that users can find out past addresses of individuals as well as criminal records or other sensitive information quickly and easily – all from one convenient platform.
7. TruthFinder
TruthFinder is a powerful online background check service that provides users with detailed information about individuals. It compiles comprehensive reports on people's backgrounds using public records, social media profiles, and other data sources.
TruthFinder offers a variety of features for users to take advantage of. The main feature available is the ability to run a background check on anyone in the United States.
By providing a name and location, TruthFinder can generate an extensive report that includes criminal records, addresses, phone numbers, email addresses, social media accounts, and more.
In addition to running background checks, TruthFinder offers several other features designed to help protect users from identity theft and fraud. Its reverse phone lookup tool allows users to search for details associated with any US landline or mobile phone number.
The reverse email lookup tool works similarly by providing details on any email address found in its database.
TruthFinder also has a dark web monitoring feature that continuously monitors the dark web for any personal information associated with its members' identities. If it finds anything suspicious, it will alert them so they can take the necessary steps to protect themselves from potential scams or frauds.
8. US Search
US Search is a comprehensive search engine that allows users to find people, businesses, and public records. It combines the power of databases, directories, and search technologies to provide accurate results.
The site provides access to more than 20 billion records from over 7,000 sources across the United States.
Users can search for information by individual name, address, phone number, or business name. They can also perform reverse searches on individuals or businesses by providing known information, such as a phone number or address.
US Search also offers background checks and other investigative services for those interested in obtaining detailed information about an individual or business.
In addition to these features, US Search allows users to filter their searches based on various criteria such as age range, city/state/zip code, criminal records, financial data, and more.
Users can also enter custom parameters for even greater precision when searching for someone or something specific. US Search is well-known for its reliability and accuracy, making it an invaluable resource for private investigators and everyday citizens.
9. Whitepages
Whitepages is an online platform that provides users access to a comprehensive directory of contact information for individuals and businesses in the United States. It is the go-to source for millions looking for the most up-to-date contact information about people and businesses.
The Whitepages directory gives users access to detailed contact information, including name, phone number, address, email address, age, and gender.
It also offers additional features such as reverse phone lookup, which allows users to search for a person's name based on their phone number, and background checks to verify criminal or other public records associated with an individual.
Additionally, Whitepages includes tools that allow users to check whether a business is legitimate by searching its Better Business Bureau (BBB) rating.
Whitepages also include free services such as Caller ID and spam protection. Caller ID helps users identify callers by displaying their names on the caller's screen before they answer the phone.
Spam protection works by identifying potentially malicious texts or calls from known fraudsters or scammers and blocking them from contacting you.
Finally, Whitepages offers premium services such as identity theft protection and personal reputation control that help users protect their identities online and monitor how others view them online.
These services give users peace of mind knowing their personal information is safe from hackers, thieves, and scammers.
10. Anywho
Anywho is an online directory and search engine for people, businesses, and public records. It was launched in 1997 by AT&T and is now part of the Yellow Pages Group. Anywho provides various services to help users find people, businesses, and public records.
The main feature of Anywho is its reverse phone lookup service. This allows users to find the name and address of the person with a particular phone number. Additionally, users can search by business name or address to get contact information for a specific company.
Anywho also has a powerful search engine that enables users to search for people by name or location. The results can be sorted according to relevance, distance from the user's current location, or alphabetically.
Furthermore, Anywho offers detailed maps allowing users to view addresses in their local area and locate driving directions between two points. The map feature also includes a satellite view option that lets users see aerial photographs of any location.
Finally, Anywho provides access to public records such as property and voter registration data. This can be extremely helpful for those trying to research someone's background or track down an old friend or family member.
11. MyHeritage
MyHeritage is an online family networking and genealogy website established in 2003. It has become one of the most popular websites for genealogy research, allowing users to build family trees, share photos and stories, and search historical records.
With its extensive database of over 14 billion historical records and billions of family tree profiles, MyHeritage makes it easy to find out more about your family tree.
The website has a variety of features that make the process of researching your ancestry simple and streamlined. MyHeritage offers a Family Tree Builder tool allowing users to create detailed family trees with photos and information about each ancestor.
It also provides access to millions of global historical records, including birth, marriage, death, immigration, military service, land ownership, etc. The website's DNA testing feature provides insights into ethnicity and distant relatives worldwide.
MyHeritage also offers social networking tools such as Groups and Messages, allowing users to connect with members with similar interests or research goals.
The website also hosts several blogs that provide helpful tips on how to start researching your family history and interesting articles about genealogy trends.
Finally, MyHeritage offers document scanning services to easily add physical copies of documents like birth certificates or marriage licenses to your online family tree.
12. FamilySearch
FamilySearch is a free genealogy website operated by the Church of Jesus Christ of Latter-day Saints. It contains records of over 3 billion individuals from all over the world.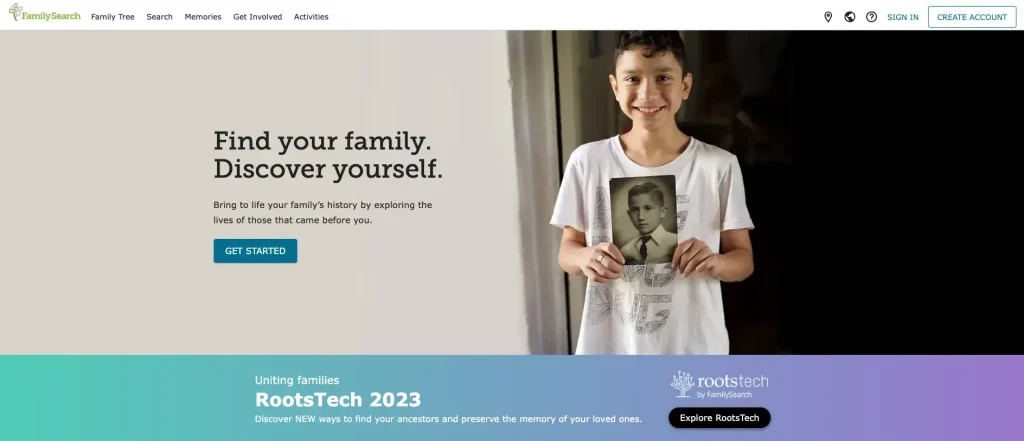 The website allows users to search and browse historical family trees, view the records of their ancestors, and collaborate with others to research their family history.
One of FamilySearch's primary features is an online family tree builder, which allows users to create and share their family tree with other members.
They can add photos, notes, and relevant information to each profile. Users can also connect with distant relatives through the site's messaging feature.
In addition to its family tree builder, FamilySearch offers a vast collection of historical records, including birth, marriage, and death certificates; census data; military records; immigration records; land deeds; probate files; obituaries; newspaper articles; and more.
These documents are sourced from local libraries, archives, government offices, churches, and societies worldwide.
FamilySearch also provides educational resources, such as tutorials on how to use the site effectively. It also hosts events such as webinars and workshops that allow users to learn more about genealogy research methods.
Frequently Asked Questions
1. What sites are similar to ZabaSearch?
Some of the most well-known alternatives to ZabaSearch include Pipl, AnyWho, Wink, Instant Checkmate, and Intelius. These websites provide people with searches and background checks but may have different fees or regulations related to their services.
2. What has happened to ZabaSearch?
ZabaSearch used to be one of the most dependable people search engines; however, in recent years, it has been removed from service. Its website is no longer available, and the company does not seem to be taking part in any activity. The reason for its closure remains unknown, though it might have something to do with modifications to privacy laws or litigation against them by an ex-customer.
3. What is better than Spokeo?
PeopleFinders is a great alternative to Spokeo, which offers premium services such as background checks, public records searches, and reverse phone lookups. It also has an easy-to-use website, making accessing all its available services simpler.
4. What is the best free site to find a person?
Google, Facebook, Spokeo, White Pages, 411.com, and Intelius are all good options for finding people online without paying a fee. These websites allow you to look up addresses and phone numbers for free.
Conclusion: Best Zabasearch Alternatives
In conclusion, Zabasearch is a powerful people search tool, but many alternatives are available. Zabasearch offers some unique features, but comparing other options is important to determine your best fit.
Zabasearch alternatives can be a great resource for individuals searching for public records information. Many different online search websites provide more comprehensive and accurate results than Zabasearch. You can ensure the best results by combining the top databases such as BeenVerified, Instant Checkmate, and US Search. Additionally, users should always do their due diligence when using any online search website to ensure their safety and security.
Whether you're looking for additional information on someone or trying to locate lost friends and family members, an online search tool can help.
Table of Contents