Trello Business Model | How Does Trello Make Money?
Trello is a list-making tool based on the kanban system that helps people and businesses to manage and organize tasks.
Trello is trusted by millions of people worldwide, and it's no secret that it's the most user-friendly and adaptable software.
Trello is one of the most successful SaaS apps, with over 50 million users as of 2019.
The program is an intelligent collaboration solution that allows users to manage projects on boards and change statuses in cards.
Trello Business Model is Freemium and charges its user for the premium plans who want additional features.
Trello is available on the web, as well as on iOS and Android devices. It is accessible under a freemium format, with the free version having more functionality than the premium version.
Trello is the easiest tool to use for project management if you like simplicity; we also use it all the time.
The Kanban-style task management interface provides easy-to-use visibility into tasks across the pipeline thanks to its easy-to-use drag-and-drop functionality.
It's really easy to use and offers a fantastic free plan. However, it lacks advanced capabilities and may seem overly restricting for large projects.
What is Trello?
Trello is a visual project management SaaS application that employs the Kanban approach to organize and assign tasks to projects.
Boards, which display several project stages (for example, "In Progress" or "Done") and list assigned tasks, are frequently used.
Trello earns money by charging for premium membership options that grant access to extra features. These programs are aimed towards either people (Trello Gold) or corporations (Trello Business Class and Trello Enterprise).
Trello was created in 2010 by Fog Creek Software, which also created FogBugz and StackExchange.
It was an instant hit with users all around the world. This resulted in Trello's acquisition by Atlassian in 2017, which paid $425 million for a 100% interest in the firm.
Trello is a project management application meant to help people and teams work more effectively and organize their tasks. They provide a freemium approach in which users may create an infinite number of boards, lists, and cards. It can also be used in conjunction with cross-functional departments.
There are various software versions, and this evaluation will mostly focus on its choices for companies.
Trello calls these sections "boards," They include all of the specifics for a certain project. Its boards are organized into lists containing individual cards describing a specific project, such as who participated, task checklists, comments, and conversations.
Labels can be added to cards to make searching simpler. Users may use the search feature at the top of the page to filter cards within a particular board and discover a specific card.
Trello may be accessed with any mobile device, including smartwatches and Kindle Fire tablets. Because data is immediately synced across all devices, any modifications or additions to boards, lists, and cards are made in real-time.
| | |
| --- | --- |
| Company Name | Atlassian |
| Company Type | Private |
| Founders | Joel Spolsky |
| Product | Web-Based Kanban Style List making Application |
| Owner | Atlassian |
| Founded Date | September 13, 2011 |
| Headquarter | Sydney, Australia |
| Location Served | Worldwide |
| Website | https://trello.com |
Trello's Power-Ups are one of its distinguishing features. Power-Ups transform each board into what Trello refers to as "living apps" by adding new features and connectors.
Document management solutions, social networking, and business operations such as HR, marketing, and IT may be integrated.
The Trello service is mainly free, allowing users to organize boards, lists, and cards with no limits.
Free users are limited to one Power-Up on each board. The free edition of Trello allows users to work with an unlimited number of individuals.
How Does Trello Work?
Trello is a SaaS collaboration platform that assists in the organization of activities and projects into boards.
The app is accessible through the web, as well as on Android and iOS. Users use cards to indicate the current level of progress, which are put in various parts of the board.
It also offers users the functionality of adding comments, checking off checklists, uploading files, and adding due dates.
Trello allows users to invite others to join them to enhance cooperation among project participants.
It is then possible to allocate tasks to all participating members. Users can indicate the state of a task by dragging and dropping cards (or cards).
Trello is based on the Kanban technique, but it can be used in various project contexts, such as by-product owners in Scrum or by just the average individual who needs organization.
Trello Business Model
Trello works on a Freemium model, in which free users get access to a plethora of functions while premium users have access to additional features.
The notion of providing fantastic services for free worked effectively, as it drew millions of users in a short time.
Furthermore, it is an excellent method for individuals to advocate for it and bring in new users.
Because Trello continuously adds new and really helpful features, free users are more likely to switch to the premium version. Trello's business strategy is functioning effectively in this manner.
The firm charges freelancers and businesses a monthly membership fee for utilizing its premium services in terms of revenue. Let's have a look at it in the section below.
How Does Trello Make Money?
Trello earns money by charging a monthly membership fee to private or business customers. Trello is a freemium product at its heart, and as such, the majority of the program is free to use.
Trello's main selling point is its simplicity and wide range of functionality available in the free edition.
The free version of Trello is feature-rich to get users acquainted with the application and eventually outgrow it.
Trello's freemium customers may also be product advocates, pushing to incorporate Trello within their organization.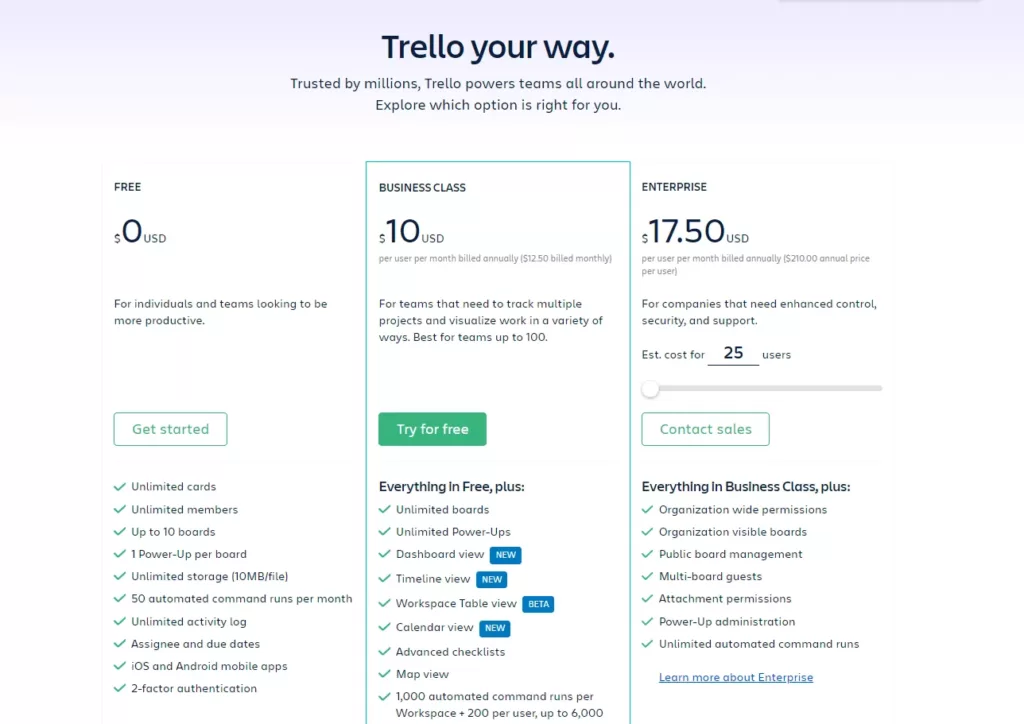 In addition to its free offerings, the firm provides three monthly membership alternatives. Trello Gold, Trello Business Class, and Trello Enterprise are the three options.
Trello Gold is intended for individual users and expands some of the free version's functionality.
You can, for example, add larger attachments to your cards (up to 250MB), add custom backgrounds to your boards, and add different emojis to your boards. The package costs $5 per month (or $45 per year).
The Corporate Class and Enterprise plans are intended for business consumers, as the names suggest. Customers in Business Class pay $9.99 a month per user, while Enterprise pricing is based on the number of registered users.
The commercial plan includes administrative privileges, priority support, enhanced privacy settings, and the ability to form numerous groups.
What is the Funding and Valuation of Trello?
Trello received one round of investment in 2014, according to Crunchbase (Series A). The firm raised $10.3 million from investors such as Index Ventures, Spark Capital, and the LAUNCH Accelerator (led by Jason Calacanis).
Trello was valued at $50 million in Series A. The company's valuation increased to $425 million upon its purchase in 2017, showing an 8.5-fold rise over three years.
What is the Revenue of Trello?
Atlassian has opted not to publish revenue numbers for any of its applications or services for the time being. As a result, Trello's income figures are not made public.
Atlassian's most recent statement, made shortly after the acquisition, stated that Trello is expected to generate $4 million in revenue for the fiscal year 2017.
Features of Trello
Here are some of Trello Business Class's major features:
Integration with an uncountable number of programs (through Power-Ups), including Salesforce, Slack, Google Hangouts, Github, and Evernote.
Attachments of up to 250 MB in size
It can contribute files, comments, or emojis to a conversation and tag users inside a remark.
Security features include the option to limit membership invitations, delete former workers from an account, designate access to customers or external team members as observer-only, and manage who may establish secret or public boards.
Personalized branding with a board backdrop and stickers
There are several sorting options available, including recently active members, most members, and alphabetically.
With a simple click, you may export team data.
Notifications may be received at any time and from any device.
Viewable in dashboards, timelines, maps, and calendars
Butler workflow automation features include limitless rules, buttons, scheduled commands, 1,000 command runs per team plus 200 per person, a monthly limit of 6,000, command administration, and email notifications.
The ability to create cards and comment on them through email is another remarkable feature of Trello. Trello users may send attachments or reply to emails even without signing into the tool.
Success Story of Trello
Joel Spolsky developed Trello (formerly codenamed Trellis) in 2010. It was spun out of Spolsky's business Fog Creek Software (now Glitch), which also developed other tools like FogBugz and StackExchange.
Trello was unveiled to the public at TechCrunch Disrupt. This public debut was a huge success, with over 30,000 people signing up.
The tool began entirely free to establish a user base. The management team intended to pay those users later on once Trello had become an indispensable part of their everyday life.
Trello was initially a product of Fog Creek Software (now known as Glitch).
It was spun out as a separate business in 2014 and was later responsible for creating other software products such as FogBugz and StackExchange. Trello is a kanban-based tool for managing and organizing tasks in a single location.
That plan certainly worked. Trello amassed over 4.6 million users in 2014 while receiving $10.3 million from investors such as Index Ventures and Spark Capital.
The company was already profitable at that point, according to the previously announced business strategies.
Trello was released and introduced at TechCrunch Disrupt. The application immediately attracted over 30,000 signup requests since it was a public debut.
The result is that by 2014, it had amassed over 4.6 million members and made over $10.3 million in investment.
However, the firm was already successful because of its freemium business model.
With the announcement of the fundraising round, Michael Pryor (who co-founded Fog Creek with Spolsky in 2000) took over as CEO.
Trello was bought by software giant Atlassian (developer of JIRA and Confluence, among others) for a staggering $425 million (with $360 million in cash and the balance paid in stock) three years and 19 million registered users later.
Atlassian paid $425 million in cash and shares for Trello on January 9, 2017. Trello had around 19 million registered users at the time of the purchase. The Trello company acquired Buttler in 2018 to improve its automation capabilities.
The financial performance and growth of Trello have been kept secret since the announcement of the acquisition.
Pryor stated in late 2019 that the business had reached 50 million users — and that it will continue to develop new features to expand Trello's potential.
The company's headquarters are in New York, United States. Trello's CEO is Michael Pryor, co-founder of Fog Creek.
A significant percentage of Trello's shares were held by Joel Spolsky and Michael Pryor during the acquisition by Atlassian, the software development giant. 22% of Trello's shares were sold to investors as part of the deal.