Walmart Business Model | How Does Walmart Make Money?
With net revenue of more than $551 Billion in 2020, out of which $341 billion was only from the USA, Walmart is definitely one of the biggest retailers around the globe.
Walmart is a multinational supermarket company headquartered in the United States of America.
Walmart operates a chain of supermarkets, grocery stores, and discount department stores and is the world's biggest corporation in terms of sales. According to the 2019 Fortune 500 list, it is worth $514.405 billion in the United States.
This article will delve into Walmart's business model in detail, examining how the retailer channels sales from its various divisions.
1. What is the Walmart Business Model?
Walmart's business model has grown the retailer into the largest supermarket chain in the United States, with over 11,500 locations in the United States, including hypermarkets, supermarkets, and department stores, operating under 56 banners in 27 countries and operating e-commerce websites in ten countries.
They employ approximately 2.2 million employees globally, 1.5 million based in the United States alone, and serve nearly 270 million customers. Walmart is also the world's largest company by revenue, with more than 500 billion dollars in accumulated capital.
The brand, a publicly traded family-owned business led by the Waltons, encompasses a retail chain that, while still heavily reliant on brick-and-mortar retail, has been rapidly expanding its e-commerce presence.
Walmart's growth can be attributed to its extensive store network in North America and commanding the retail sector's leading market share. Walmart's popularity is also a result of their targeted advertisements.
Crum marketing consultant is one of the numerous firms collaborating with global corporations such as Walmart to ensure their sales continue to expand year after year.
With $485 billion in sales in 2015, Walmart is the world's largest business (in terms of revenue) (fiscal year ending January 31, 2015). In 27 nations, Walmart operates about 11,000 stores. Walmart employs approximately 2.2 million people, or "associates," making it one of the world's largest employers.
2. What is the Business Model Strategy of Walmart?
The business model strategy of Walmart is based on four factors: Lead on Pricing, Differentiate on access, compete on assortment, and Deliver excellent experience to its customers.
Walmart retained its global retail leadership position by outperforming competitors on price and assortment. Walmart's iconic EDLC (everyday low cost) and EDLP (everyday low prices) strategies contributed to the company's growth to become the world's largest supermarket chain.
Walmart's business model has been innovated to incorporate two new strategic levers in response to changes in the retail market and changing customer preferences.
Let us look at each of Walmart business model strategy in detail:
2.1 Lead on Price
Walmart's business model is perhaps best known for its dedication to keeping costs as low as possible to be affordable to almost all.
The corporation has always upheld the need for a low price so that it is accessible to everyone. Despite their low-cost approach, they could retain their spot at the top by constantly emphasizing their suppliers.
Walmart does this by using the world's largest network of vendors, from which they make large-scale transactions to ensure bargaining power and the lowest possible price.
Cross-docking is another strategy used by the company, especially with Sam's Club. An intelligent and well-organized redistribution mechanism in which products are received in a warehouse is sent directly to the consumer or point of sale rather than processed. This results in substantial logistics cost savings.
2.2 Invest To Differentiate On Access
New age market access tactics are being introduced towards the retail industry by traditional and new-age competitions.
Walmart's business model responds in its unique way to these emerging tactics.
To make themselves more accessible to customers, the organization is opening a small retail store. Despite their reputation for supercenters and convenience shops, they want to ensure that small businesses do not compete with them for customers. As a result, these small-format stores assist consumers in obtaining new and packaged foods.
Walmart is making significant investments in digital marketing and e-commerce. To retain their marketplace, they must keep up with the patterns of the other retail stores. Consumers will be able to shop at their leisure, anywhere, and at any time, thanks to the introduction of user-friendly online shopping stores. Walmart Laboratories is their tech center in Silicon Valley, where they collaborate with leading technology labs. Customers may place orders for items they want and get them delivered to their homes from physical stores. It demonstrates that they are bolstering their physical and digital access connections.
Walmart is putting money into programs that are hard to come by. Health and wellness providers, for example, can face a pricing challenge. It is the only retailer in the United States with its pharmacy and clinics that provide preventive health care and wellness items. You can call it a wellness and health supporter because it has a channel partner named QuadMed.
2.3 Compete on Assortment
Walmart invests heavily in various products and brands, from local to foreign names, in both its physical and online stores.
Walmart has long been a leader in product assortment strategies that appeal to local needs, with a wide range of products available on both physical and digital platforms.
Walmart's merchandise units deliver a diverse range of products. Its merchandise selection caters to the preferences of local customers in international businesses. Walmart offers a wide range of products in both physical and digital formats.
Walmart's market model promotes a wide range of goods and various commodities through physical and digital channels.
It includes everything from regional tastes to international interests.
2.4 Deliver Excellent Experience
Walmart understands that the best approach for retaining customers is to provide them with the best possible experience to return to their stores to shop again.
And the company understands that happy customers are dependent on motivated employees.
As a result, Walmart hires 2.2 million people, vital to providing customers with a positive shopping experience. It aims to pay its staff well while still investing in employee preparation.
Walmart has long been chastised for its employee-unfriendly practices, including low minimum salaries, limited reskilling and training opportunities, and a lack of clarity about career advancement.
Walmart recently declared its plan to raise hourly wages and improve employee satisfaction. It hopes that investing in employee recruitment and retention will provide a better shopping experience to its customers across all platforms.
It's important to note that Walmart's whole business plan is based on Sam Walton's "10 rules for creating a success":
Commit to your business.
Distribute your profits to all of your employees and consider them as friends.
Motivate your colleagues.
Offer your partners as much information as you can.
Appreciate what your coworkers do for the business.
Congratulations on your accomplishments.
Everyone in your business should be heard.
Exceed the needs of the clients.
You should keep track of your spending better than your competitors.
Swim against the current.
2.5 Money-back Guarantee
Walmart's marketing plan guarantees the distribution of new, organic, and high-quality fruits and vegetables.
They provide consumers with a money-back guarantee if they are dissatisfied with the services.
3. How Walmart Makes Money?
Walmart makes money from the sales of various goods and services for individuals in the United States and abroad. They offer a variety of goods and services, including:
3.1 Revenues from Product Sales
Retail sales account for almost half of Walmart's revenue, including items sold under its brand and other national and foreign brands.
Grocery, Health and Wellness, Entertainment, Hardlines, Apparel, and Home items are all sold at Walmart.
Meat, fruit, deli, bakery, dairy, frozen foods, floral and dry grocery, and consumables such as health and beauty aids, infant products, household chemicals, paper goods, and pet supplies are all available in the grocery.
Pharmacy, optical services, over-the-counter drugs, and hospital services are all part of health and wellness.
Electronics, toys, cameras and supplies, photo processing facilities, cellular phones, cellular service plan contracts and prepaid service, movies, music, video games, and books all fall under the category of entertainment.
Stationery, automotive, hardware and paint, sporting goods, fabrics and crafts, and seasonal products are examples of hardlines.
Women's, ladies ', men's, boys', and infants' clothing and shoes, jewelry, and accessories are included in the apparel category, housewares and small appliances, bedding, home décor, outdoor living, and horticulture are all included in the term "home."
3.2 Service Revenues
Also, Walmart earns a good amount of money from services in the following ways:
Financial services and goods are included. Money orders, credit cards, wire transfers, money transfers, check to cash, and bill payments all have service costs.
VUDU is a video-on-demand service. Subscription revenues for renting, purchasing, and viewing movies and T.V. shows on-demand are included in this category.
Clinical Services are available. It includes nutrition and preventive treatment, primarily acute care, chronic illness management, referral to specialists, lab testing, and immunization, as well as service charges for preventative and regular health services for a typical collection of general health ailments and screening requirements that can be done without urgent or emergency care.
Services related to health insurance. It includes direct health operation fees for delivering healthcare benefits.
4. What is the Structure of Walmart's Business Model?
Walmart's business activities are divided into Walmart into the United States, Walmart International, and Sam's Club.
Supercenters, supermarkets, hypermarkets, warehouse clubs, cash & carry, home improvement, specialty electronics, restaurants, apparel stores, medication stores, and convenience stores, as well as digital shopping, are all places where the company sells its items.
Walmart only reports segment earnings based on operating income, which is a profit indicator that excludes several costs included in total profit, called net income, such as taxes and interest on loans. Walmart announced $5.5 billion in net income for the fourth quarter of the fiscal year 2021, which included a $1.0 billion loss related to "corporate and service."
In addition to the three segments mentioned below, Walmart posted $1.1 billion in sales for the fourth quarter of 2021 under the category "membership and other profits."
4.1 Walmart U.S.
The Walmart U.S. division is the company's biggest revenue generator. It oversees all of the stores throughout the United States, including Washington, D.C., and Puerto Rico.
This division is in charge of various aspects of a person's everyday needs, such as groceries, health, entertainment, apparel, hardlines, and home. They still offer a variety of programs.
Walmart's business model includes money orders, credit cards, wire transfers, and bill payments in addition to banking services. They sell both licensed and private-label products.
Customers can get physical access through three different retail formats: supercenters, department stores, and other small stores.
Walmart U.S. provides consumers with a variety of products and services through e-commerce websites and smartphone applications.
The digital retailers and physical stores have a partnership known as "Walmart Pickup" and "Pickup Today."
In the fourth quarter of 2021, Walmart posted $5.2 billion in operating income on $99.6 billion in net sales. It accounts for 79.3% of its operating income and 65.5 percent of net sales in the quarter.
Walmart's operating income in the United States grew 17.4% year over year in Q4 F.Y. 2021, making it the company's fastest-growing segment in terms of operating income. Year over year, net sales rose by 7.9%.
4.2 Walmart International
Walmart's international division covers 27 countries where you can find Walmart stores. They also operate grocery, wholesale, and other types of stores. Joint companies and wholly-owned subsidiaries are used to run the stores.
Customers have physical access to the distribution centers, which number 156.
Physical stores facilitate digital access by offering "Click & Collect" in the United Kingdom and "Home Delivery" in Mexico.
For the fourth quarter of 2021, Walmart International posted an operating income of $964 million on net revenues of $34.9 billion. It accounts for 14.8 percent of total operating income and 22.9 percent of net revenues in the first quarter. Walmart International's operating income fell 12.8 percent year over year in the fourth quarter of the fiscal year 2021, the only category to do so. Net sales increased 5.5 percent year over year, the slowest growth rate among Walmart divisions.
4.3 Sam's Club
Sam's Club is the third and final part of Walmart's business model, present in 44 states and Puerto Rico.
This section deals with warehouse clubs that are only open to members. It's also compatible with samsclub.com. Individual consumers, as well as business owners, can subscribe to their services.
With the aid of a utility named "Club Pickup," the wireless access factor in this division helps the physical clubs and members.
For the fourth quarter of 2021, Sam's Club posted an operating income of $389 million on net revenues of $16.5 billion. It accounts for 6.0 percent of the company's operating income and 10.9 percent of net revenues in the first quarter.
For Q4 F.Y. 2021, Sam's Club operating income increased by 1.3 percent year over year, while net revenues increased by 8.1 percent. It was the fastest-growing Walmart segment in net revenue, while the Walmart U.S. segment was a near second.
4.4 Walmart Smartphone App
There is also a Walmart Mobile App for iOS and Android and the three major divisions and e-commerce. You can use the Walmart app to purchase Walmart.com items and make payments using their phones.
The app can also make shopping lists, review prices and availability, and even locate items in the aisles.
Walmart has 157 distribution centers in the United States. It has 188 distribution centers worldwide, including Argentina, Brazil, Canada, Central America, Chile, China, Japan, Mexico, South Africa, and the United Kingdom.
5. What is the Business Model Canvas of Walmart?
The Business Model Canvas of Walmart is discussed below in detail: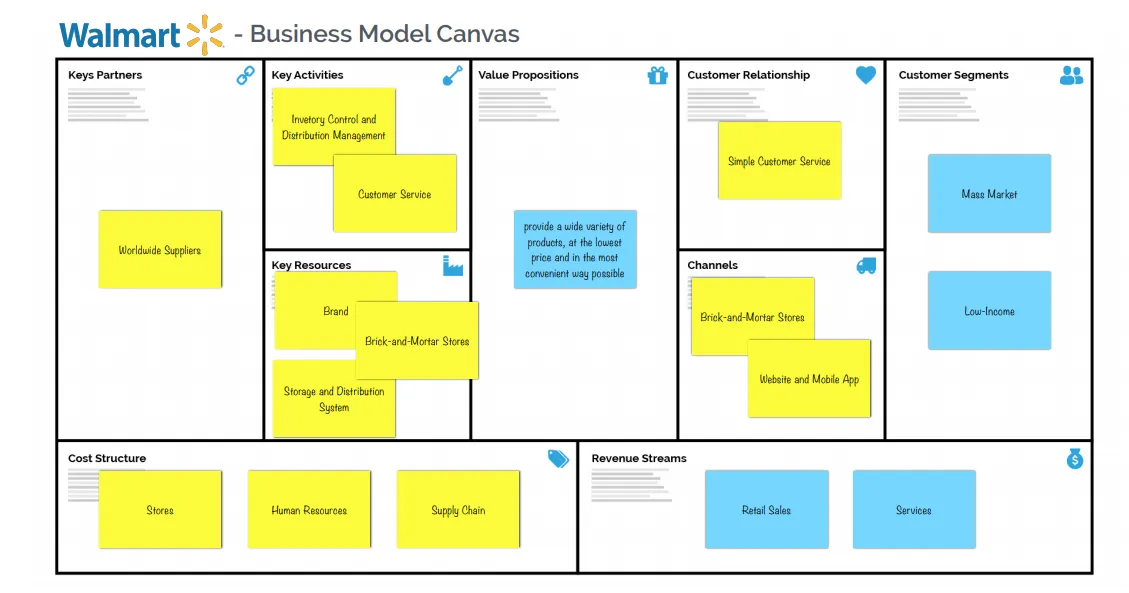 5.1 Key Partners of Walmart
Walmart's primary partners are undoubtedly its suppliers, as they enable the business to deliver on its value proposition by ensuring low-cost goods and services, as well as global reach.
5.2 Key Activities of Walmart
Walmart's primary activities involve purchasing and selling merchandise while keeping costs under control. Additionally, the organization makes significant investments in customer support, inventory management, and logistics management.
5.3 Key Resources of Walmart
Walmart's primary assets include its brick-and-mortar shops, distribution and storage facilities, virtual infrastructure, which includes the e-commerce website and mobile app, and, of course, human capital.
5.4 Value Propositions of Walmart
Walmart's value proposition reflects its corporate philosophy: to provide a wide selection of goods at the lowest available price and in the most convenient manner possible.
5.5 Customer Relationships of Walmart
Walmart's relationship with its customers is also entirely dependent on its value proposition – low-priced, high-quality, and diverse product that is readily accessible and provides the best service. To make this possible, procedures are streamlined and standardized to the maximum extent possible.
5.6 Distribution Channels of Walmart
Walmart's distribution channels are well-known: their brick-and-mortar supermarkets, their website, their smartphone app, as well as their social and mass media presence.
5.7 Customer Segments of Walmart
Walmart's consumer segmentation is achieved in part because of its low-cost approach. As a result, its consumers are typically people who are looking for low-cost, high-quality goods, whether they are low-income or simply looking for the best value for money.
5.8 Cost Structure of Walmart
Walmart's cost structure is far from "lean," with over 11,000 stores (including superstores) worldwide.
However, its activities are driven by a financial discipline that helps it to minimize such costs to the greatest extent possible, with the savings being passed on to the final customer.
5.9 Revenue Streams of Walmart
As we've seen, Walmart's revenue sources are focused on retail sales (both domestic and international) and the Sam's Club. However, the company has expanded its service offerings.
6. What are the Recent Developments of Walmart?
Although the pandemic has increased Walmart's prices, it has also fueled the growth of e-commerce as millions of people seek shelter and work from home. Walmart U.S. saw a 69 percent year-over-year increase in e-commerce revenue in Q4 2020, while Sam's Club saw a 42 percent year-over-year increase.
Walmart is increasing its investments to boost revenue and profits in the future. The organization expects to spend $14 billion in the fiscal year 2022 on automation and its supply chain to boost its delivery capabilities. Walmart would also increase the starting salary for Walmart associates in the United States to more than $15 per hour.
7. What is the Financial Status of Walmart?
Walmart announced a $2.0 billion consolidated net loss for the fourth quarter of the fiscal year 2021, published on January 31, 2021. However, operating income for the quarter was $5.5 billion, with overall sales of $152.1 billion.
For the fourth quarter of 2021, operating income increased by 3.1 percent year over year (YOY), while overall revenue increased by 7.3 percent. The $1.4 billion provisions for income taxes and $1.1 billion in expenses related to the COVID-19 pandemic in Q4 F.Y. 2021 contributed to the Q4 net loss.
Also read, How Does Peloton Make Money?
8. Final Thought about Walmart Business Model
Walmart's business model is backed by Chairman Greg Penner, President and CEO Doug McMillon, and the company's 2.2 million employees.
With 11389 locations worldwide, the company has developed a global presence.
It demonstrates that the company's plans are operating in unison to generate sales and have a high rate of return on all of the money and effort spent.
All of these activities contribute to Walmart's business strategy of "developing, opening, and operating units in the optimal locations and delivering a customer-centric omnichannel experience."
If you enjoyed reading this article, also checkout The Amazon Business Model.