Gorillas Business Model | How Does Gorillas Make Money?
'Gorillas' is an online grocery delivery business that accepts orders through its Android or iOS mobile apps.
Gorilla, a company that owns its own hyperlocal fulfillment centers and has already established itself as a strong presence in Berlin, has acquired capital of $44 million.
Gorillas earn money by selling things profitably and charging for delivery. The Gorillas business model offers its customers with option to select and order their required groceries from the store and get it delivered to their doorstep in 10 minutes.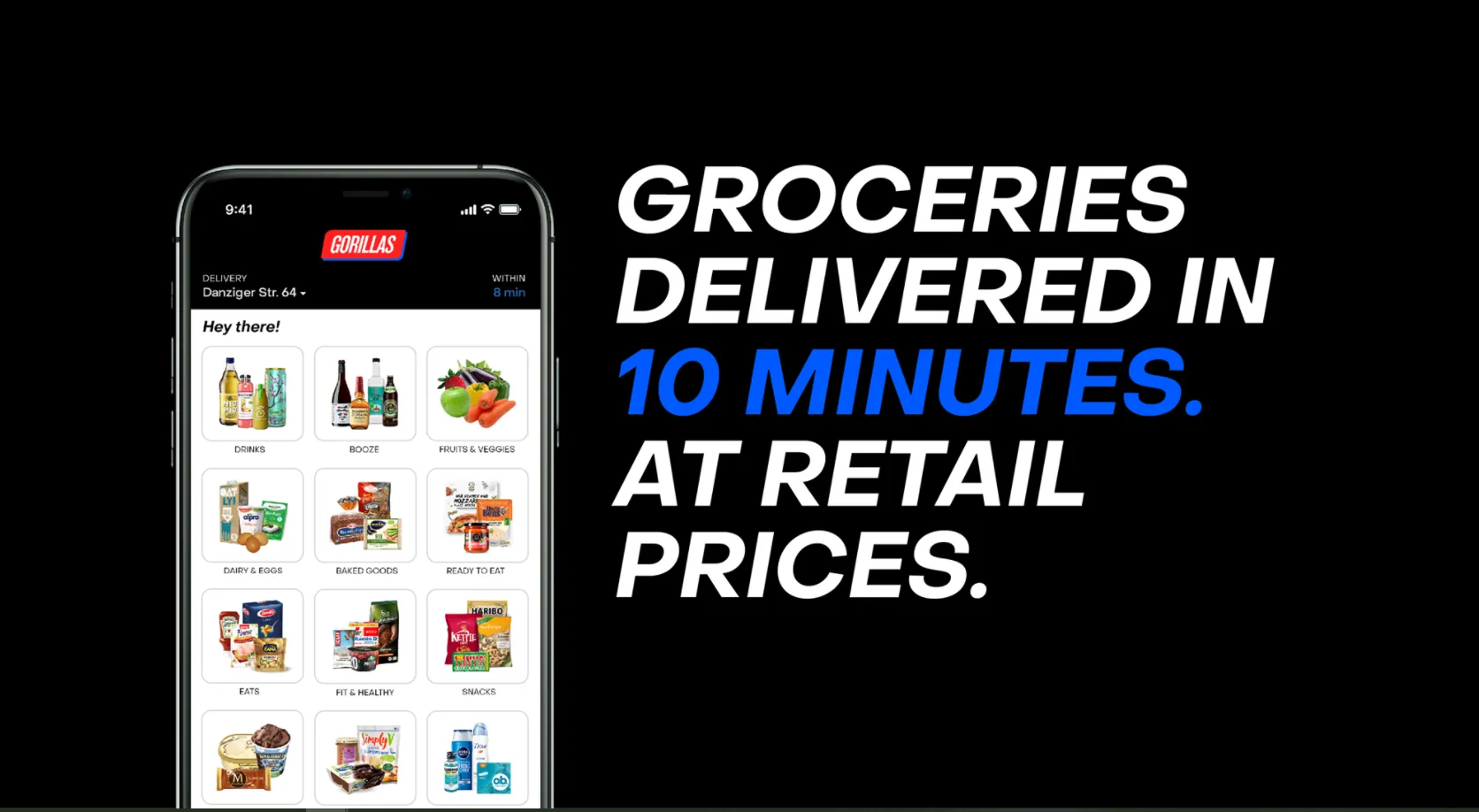 Gorillas were founded in May 2020 and have quickly grown to become one of the premier delivery businesses in Europe. The company has raised $335.4 million in capital to date.
It is noteworthy that Index and Accel were apparently interested but chose not to invest. Previously, Atlantic Food Labs invested in Gorillas in a seed round valued at approximately €1.2 million.
An investor round spearheaded by the hedge fund Coatue and including other unknown investors is probably one of the most ill-kept secrets in European technology in recent years. As a result, a new board of directors has been formed for Gorillas with Daniel Senft and Bennett Siegel of Coatue.
What is Gorillas?
Gorillas is an on-demand food and grocery delivery company based in Germany, France, the Netherlands, and the United Kingdom.
Gorillas Business Model offers customers access to a wide range of products, such as grocery and alcohol and charge them money from sales and delivery charge.
You can easily use Gorillas. To use the service and order from Gorillas, you need to register online or download the Gorillas app available for both Android and iOS.
Enter your location and payment details, and you are ready to go. Browse from thousands of items you want to order and get delivered to your doorstep.
Gorillas guarantees that every customer order will be delivered within ten minutes. Gorillas maintain their own warehouses (also known as dark stores) where things are stored and delivered.
For example, delivery companies like Instacart work with other retailers (like supermarkets) to distribute their products. However, since the delivery driver must browse through dozens of shelves to locate all relevant products, this process often takes longer.
In addition, Gorillas provides its riders with Gorillas-branded clothing and electric bikes. The corporation employs a large number of riders rather than contracting them.
How Does Gorillas Make Money?
Gorillas earn money from the sales of products and the delivery charge of the sold products. We'll take a closer look at both in the sections below.
Sales of Products
Gorillas sources the items it sells and stores them. Thus, the company does not deliver groceries or products from other retail outlets.
As a result, Gorillas makes money whenever it sells a product. Sales profit is calculated by subtracting all costs associated with acquiring and storing the product from the overall sales price.
This strategy is significantly more profitable, according to venture capitalists and industry professionals. Gorillas' responsibility is to inform its clients where and how much stock is available for each product.
It is common for apps that collaborate with other shops not to receive real-time information about a product's availability, resulting in incomplete order fulfillment.
As a result, orders can be completed considerably more quickly. In addition, the company employs not only dedicated warehouse personnel for picking but also operates multiple warehouses in each city. Ultimately, this results in shorter lead times.
Furthermore, gorillas can determine the price at which they wish to sell their wares. Thus, even though the corporation claims that it does not usually mark up prices, it might come in the future if its product becomes sufficiently 'sticky' and competition has consolidated.
This method has the disadvantage of requiring upfront capital to establish warehouses and purchase in bulk.
Because Gorillas drivers are frequently employed full-time, the company's driver fleet must also be available at all times.
Platforms that employ drivers contractually are unable to pay them without an order.
Delivery Fees
The charge for every Delivery made by Gorillas is $2. Surprisingly, this is the only cost assessed by the company, while other platforms like DoorDash also charge so-called service fees.
Gorillas' delivery fee purpose is not to generate profits for the business but rather to cover the cost of delivery.
Its delivery times are often significantly faster since Gorillas owns its warehouses and drivers are not required to comb through shelves.
Currently, warehouse staff is responsible for collecting orders and delivering them to delivery drivers. However, Gorillas may one day utilize robots such as those found in Amazon warehouses to expedite picking and reducing costs simultaneously.
Read, Deliveroo Business Model.
Who is the Owner of Gorillas?
Coatue, an investment company based in the US, holds 19.4 percent of Gorilla. The company bought this share as part of its Series A investment in December 2020.
Co-founder Sümer remains the company's second-largest investor, with 18.9 percent ownership. Kattner still owns 4.2 percent of the company.
Atlantic Food Labs, which led the seed round, is the firm's second-largest investor. The company now controls 14.9%.
DST Global (4.7 percent), Tencent (3.9 percent), Greenoaks Capital (2.3 percent), and Fifth Wall (2.3 percent) are other institutional owners (1.1 percent).
With a 7.6 percent stake, CTO Ronny Shibley leads the employee-based ownership pool. Felix Chrobog, who owns 2.3 percent, and Ugur Samut, who owns 2.1 percent, are the other owners.
Success Story of Gorillas
Gorillas was established in Berlin in 2020 by Kaan Sümer (CEO) and Jörg Kattner.
The founders of Gorillas gained significant entrepreneurial and managerial experience before starting the company. Kattner played a crucial role in the growth of Jumia, one of Africa's largest e-commerce platforms (which is heavily backed by German VC Rocket Internet).
As Country Manager for Switzerland of HelloFresh, he held several senior management positions, most recently serving as COO.
The journey of Sumer has undoubtedly been tumultuous. His studies at a university inspired his decision to ride from Istanbul (where he grew up) to China in Germany.
He returned to Istanbul after nine months on the road to build his first firm. But, unfortunately, Kuru, a site connecting customers to dry cleaners, was shut down after one year.
Later, he joined consulting giant Bain and returned to Germany, where he co-founded Rocket Internet.
Eventually, this venture evolved into Lyght Living, an app that enabled clients to rent furniture for a set period of time. But, again, the business failed to last eight months.
Unafraid of previous failures, Sumer embarked on his new project immediately. He was inspired by his native country this time.
Getir, a service that delivers items online, recently announced that it raised one of the largest fundraising rounds in Turkish history and gained significant traction. Softbank led a U.S. funding round of 750 million dollars for GoPuff.
Furthermore, the Coronavirus outbreak eliminated the necessity of shopping at supermarkets. As a result, Internet delivery services have become increasingly popular among (grocery) purchasers.
Sümer and Kattner met through a mutual friend. They scraped by with a small round of startup investment. Sümer tested the concept by purchasing groceries from local supermarkets and storing them in his apartment.
He hopped on his bike and delivered the order once it was received (the Gorillas app was only available within his neighborhood).
The company released Gorillas (formerly GetGoodies) to consumers in Prenzlauer Berg, a district in the heart of Berlin with a population of 165,000, in May 2020. An atomic explosion of customers followed the launch of the app.
Due to its riders' distinctive clothing and lightning-fast delivery times, the company grew primarily through word-of-mouth. In addition, the service extended into the night, providing a significant competitive advantage against neighborhood kiosks (also known as Späti).
The Gorillas raised their first institutional round in August 2020. Atlantic Food Labs invested €1.2 million in the company. The financing enabled the company to expand its distribution and warehouse network across Berlin and throughout Germany.
Yet, the firm's trajectory was significantly accelerated following its Series A round announcement in December 2020. Coatue hedge fund (along with other unidentified investors) invested $44 million in Gorillas.
As a result of the funding, the company will be able to expand more quickly. The company began offering delivery services in all major German cities and Amsterdam, its first international market.
After a further $290 million was raised in March 2021, the company has been valued at more than $1 billion. After the fundraising announcement, Gorillas became Germany's first unicorn startup.
Despite the company's meteoric rise, there have been setbacks along the way. For example, several riders have complained about the substandard working conditions despite their employment as full-time riders. These include injuries sustained due to the company's (at times) false delivery time guarantees or transporting exceptionally big items.
The neighbors of Amazon's fulfillment centers also complain about loud noises and littered streets. Drivers have complained that management tracks them via their driving apps, even when they are not working. A violation of one's privacy.
As a result, both drivers and warehouse workers are organizing – a move that both Sümer and management have resisted.
It appeared that not every member of the squad was up to the task. Almost a year after the company was founded, Kattner announced his retirement from the company. Unfortunately, he or Gorillas did not explain why he made that decision.
Despite their limitations, local delivery startups are here to stay. Europe is heating up, with companies like Weezy, Glovo, Getir, and Flink raising hundreds of millions of dollars. With its acquisition of Fancy in the United Kingdom, GoPuff has also entered the fray based in the United States.
More than 1,000 people work for Gorillas across a number of offices in the EU.
Checkout, How Does Stripe Make Money?
What is the Funding, Valuation, and Revenue of Gorillas?
Crunchbase reports that Gorillas has raised $335.4 million in venture capital funding over the past three rounds.
Tencent, Coatue, Greenoaks Capital, Atlantic Food Labs, and Dragoneer Investment Group are prominent investors.
Gorillas have a valuation of over $1 billion, making it one of Europe's quickest unicorns. Bloomberg estimated that the company's valuation might reach $6 billion during its next round of funding.
As a private company, Gorillas is not required to release income information to the public. However, given the company's rapid growth and scope, an IPO may be on the horizon sooner rather than later. As a result, the company's revenues should be revealed in future filings.
Checkout, How Does Grammarly Make Money?