What Is Amber?
Amber was a charging station intended to be used by the public. You put your phone in the compartment, scan your fingerprint to secure it, and your phone will charge automatically.
It is a common problem for most people to have a 20% battery remaining when they don't have a charging source. Amber was a public-access, secure multiple-cellphone charging station.
However, the Amber Phone Charging concept was built before the portable power bank, a fingerprint-secured multiple-cell phone charging station for public use in malls, airports, large events, restaurants, and other areas with heavy foot traffic.
| | |
| --- | --- |
| Company Name | Amber |
| Entrepreneur | Bill Shuey and Kyle Byrd |
| Product | Charging stations for public phones |
| Investment Asking For | $200,000 For 20% equity in Amber |
| Final Deal | No Deal |
| Shark | No Shark |
| Episode | Season 6 Episode 1 |
| Business Status | Out Of Business |
| Website | Visit Website |
Who Is The Founder Of Amber?
Kyle Byrd and Bill Shuey co-founded Amber Phone Charging in 2014. Their company's concept was developed at James Madison University in Virginia, where they studied.
Kyle holds a bachelor's degree in industrial design. The former engineer has since worked for various firms and is currently employed as a Senior Product Manager at a company that provides tools for start-ups.
Bill earned a bachelor's degree in political science. He works as a home improvement sales representative in the Baltimore metropolitan area.
The bromance between the college friends deepened when they discovered they had a passion for start-ups.
The company saw a need for free public cell phone chargers at the time. The company envisioned a business model where the gadgets could be sold or rented to commercial business owners to enhance client satisfaction.
The company spent $11,000 of its own money on it, and they began building a prototype of what they imagined it would look like.
It would be ideal if the user could access the safe compartment with their biometric fingerprint, leave their phone to charge, and retrieve it later.
They began looking for investors to assist them in launching the firm. The company was not yet in revenue but did have a business concept, partner agreements, and sales plan.
Amber Before Shark Tank
Bill Shuey met Kyle Bird, an industrial design student at James Madison University in Virginia when he studied political science there. They started a business together.
When they discovered they shared a passion for start-up businesses, they thought they had found a market gap for phone charging stations.
There were plans to sell or rent charging systems to stadiums and theaters.
Amber is the first material that can carry a charge, so they called their product Amber because it was the product's prototype.
They were delighted to receive an email from the producers of Shark Tank.
The pair thought someone was playing a joke on them at first. Someone from the show spotted Amber's online portfolio, which surprised them.
Bill came up with it during the early stages of the idea. The producers wanted to see it pitched to sharks when they pitched their product. The producers arranged for them to appear on the show in September 2014.
How Was The Shark Tank Pitch Of Amber?
Bill and Kyle appeared on Shark Tank requesting an investment of $250,000 in exchange for a 25% stake in Amber.
Bill and Kyle leave the Shark Tank without any deal from Shark Tank for Amber.
Final Deal: No deal between Sharks and Amber.
What Happened To Amber After Shark Tank?
The Shark Tank's frenzy of criticism of Amber's concept left the firm with no choice but to cease operations once the show had ended.
The show's impact on the business and Kyle's feelings about it were chronicled in an extensive blog after leaving the company a few months after its airing.
He delivered a lengthy and in-depth critique of the show's editing procedures.
Amber was omitted from the final broadcast because the sharks did not mention Amber's complimentary comments, nor did his and Bill's passionate defense of Amber respond to the arguments aired against it.
He also questioned Robert Durjavec's knowledge of biometric scanner technology, asserting that Amber was thoroughly tested before filming and proved to be fully functional.
Robert's remarks on the show effectively ended their prospects with the other sharks, but an even worse outcome was that potential customers started to distrust their goods.
Both Kyle and Bill are currently involved in various endeavors, and they attribute their Shark Tank experiences to educating them about business, the media, and public opinion.
Perhaps Amber will experience a power vacuum on the show someday, but maybe the young entrepreneurs will come back wiser and prepared to launch their next venture.
Amber Shark Tank Update
The Sharks didn't believe Amber would be secure and that their business plan was not feasible.
Amber has shut down its website, and all social media accounts have been taken away.
Byrd left Amber in December 2014 to start working as a user experience designer at a start-up in Reston, Virginia. He is now a Senior Product Manager at AgileCraft in Austin, Texas.
Byrd quit Amber Software in 2014 and is now a Senior Product Manager at the software company AgileCraft in Austin, Texas.
In an article on Medium.com, co-founder Kyle Byrd says they got some money from investors elsewhere because of being on Shark Tank and lowering the cost per unit, but ultimately it was difficult for the company to develop and scale effectively.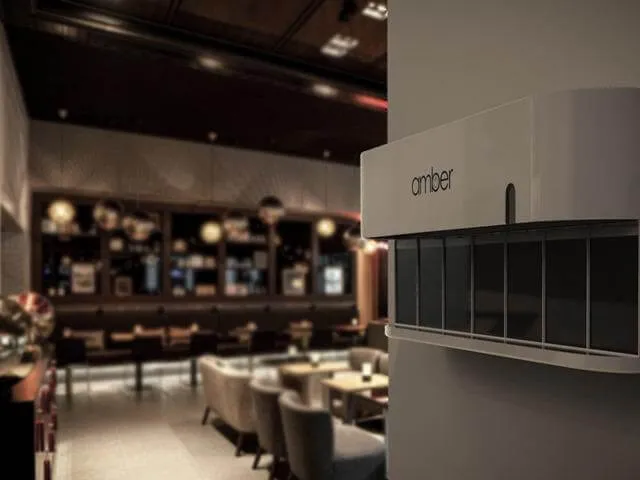 Due to the badly presented proposal, Amber did not endure long due to "continuing trust concerns" with potential clients.
Amber went out of business in 2015 and ceased all its operations.
Is Amber Still In Business?
The concept of Ambernever gained traction, and the company ceased operations in 2015.
Byrd worked as a user experience designer for a startup based in Reston, Virginia, before leaving Amber in December 2014.
Amber is out of business as of 2022.
What Is the Net Worth Of Amber?
The valuation of Amber was $1 million when it appeared on Shark Tank. The net worth of Amber is unknown as of 2022 since the company went out of business in 2015.