Top 12 Gartner Competitors
Technology is an industry that is constantly evolving. Businesses must keep up with the latest trends and developments to remain competitive.
Gartner is a leading global research and advisory company that offers various services to business leaders worldwide. It offers advice on the latest trends in technology, digital transformation, marketing, and other vital areas.
From IT professionals to marketing experts, Gartner provides insights and recommendations tailored to meet the needs of each organization. Founded in 1979, Gartner now serves more than 15,000 clients worldwide.
It provides a comprehensive suite of products, including market intelligence reports, conference proceedings, webinars, workshops, and strategic advice on managing an organization's resources for maximum success.
Gartner also offers its proprietary research platform, which allows customers to access market data from over 20 different industries across the globe.
12 Best Gartner Competitors
Gartner provides research, consulting, and advisory services for organizations seeking guidance. They are a leader in the industry with a wide range of services from IT strategy consultation to digital marketing support.
Knowing their biggest competitors can provide valuable insights into industry dynamics and help companies make informed decisions when selecting vendors.
Every market sector is competitive, and the technology sector is no exception. Gartner may lead the pack regarding research, analysis, and consulting services, but other vendors offer similar services that organizations should consider.
Gartner is one of the world's leading providers of research and insights in technology and information security, and as such, understanding who its competitors are can be a great way to gain an edge in the market. This article will explore top Gartner competitors, including their services, offerings, and overall market positioning.
1. G2
G2 is an online platform facilitating informed purchasing decisions about enterprise software and services. It provides comprehensive reviews, ratings, and comparisons of various products in the market.
In addition, it also offers insights from industry experts and buyers. G2's features include product reviews, customer feedback ratings, customer satisfaction scores, and its proprietary CrowdRank algorithm.
G2 has been a leader in the market research space since its launch in 2012. The company has seen significant growth since then and has received numerous awards for its contributions to the industry.
It offers a range of services to its customers, including content curation, data analysis, and customer service support.
Additionally, G2 provides customer intelligence reports enabling companies to make informed decisions regarding their software investments.
Given its strong presence in the market research space, G2 is often viewed as one of the top competitors to Gartner.
The company's ability to provide quality insights into enterprise software makes it an attractive option for businesses looking to invest in technology-related products or services.
Furthermore, with its wide range of offerings and robust analytics capabilities, G2 stands out as a formidable competitor.
2. TrustRadius
TrustRadius is a business software review platform that offers various services to assist users in making informed decisions.
It provides an extensive database of reviews, ratings, and insights on various products, allowing users to compare solutions and select the best one for their needs.
Additionally, the platform enables users to post questions and receive answers from other users who have experience with the product or service they are considering purchasing.
The platform is designed to provide objective, unbiased information about software solutions from verified users.
It offers comprehensive features such as price comparisons, product comparison charts, user ratings, customer success stories, and more.
TrustRadius has established itself as a reliable source for researching software solutions due to its comprehensive suite of features and its commitment to providing unbiased information from verified sources.
The platform can help businesses make informed decisions about the available software solutions.
3. Forrester
Forrester is an independent research firm that provides advice on information technology, marketing, and customer experience. The company produces data-driven research and insights to help inform business decisions.
Forrester was founded in 1983 by George F. Colony and is headquartered in Cambridge, Massachusetts. Forrester provides advice through research reports, consulting services, events, blogs, and webinars.
Forrester has a wide range of offerings, including data-driven market analysis, best practices guidance for IT decision-makers, customer experience management solutions, and industry-specific advice.
They have also developed sophisticated models to predict the impact of technology initiatives on customer experience outcomes. In addition to their research, they provide strategic guidance to executives through their Advisory Services practice.
Forrester's main competitors include Gartner Inc., IDC (International Data Corporation), Frost & Sullivan, Ovum Ltd., KPMG LLP, McKinsey & Company, Accenture Strategy LLC, and Deloitte LLP.
All of these firms provide analysis and insights into similar areas as Forrester does, but with different approaches to helping organizations develop strategies for success.
4. International Data Corporation (IDC)
International Data Corporation (IDC) is a research and advisory firm that provides businesses worldwide with insights into technology and industry trends for informed decision-making.
Founded in 1964, IDC has offices in over 110 countries and serves customers across the public sector, education, financial services, retail, manufacturing, healthcare, and telecommunications industries.
IDC's primary services include market intelligence on IT hardware, software, services, and telecommunications; custom consulting; data integration; and support services such as conferences and events.
The company also offers vertical industry research, including benchmarking studies to help organizations assess their performance against peers.
Moreover, IDC's thought leadership and strategic guidance allow companies to capitalize on emerging opportunities. IDC is among the top Gartner competitors in the market intelligence arena.
As a market intelligence service provider, IDC is well positioned to continue to be one of the world's leading market intelligence providers for many more years to come due to its strong presence in over 110 countries, dedicated research capabilities across a wide range of industries, and over 50 years of deep experience providing insight to clients worldwide.
5. Bread Financial
Bread Financial is an American company headquartered in Plano, Texas that provides marketing and loyalty solutions, credit services, and business process outsourcing.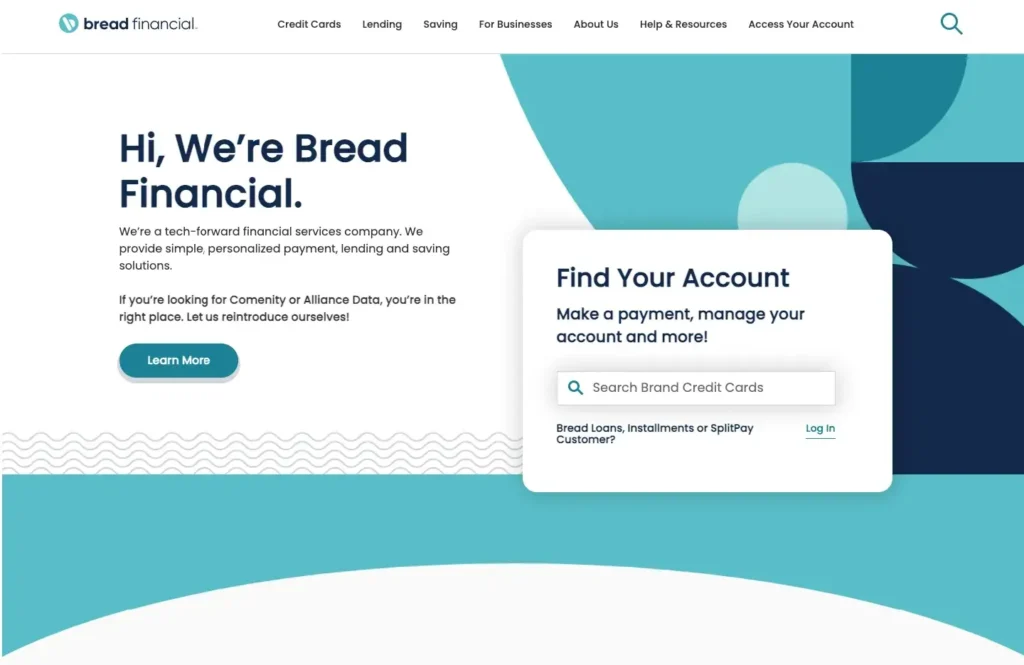 Bread Financial offers various data-driven marketing solutions, including customer analytics, data management and database services, digital marketing, and advertising services. It also specializes in providing integrated payment processing solutions to its clients.
Bread Financial's loyalty program has been successful in helping many retailers build strong relationships with their customers by leveraging their customer data. Its platform provides customers with a personalized experience tailored to their individual preferences.
Bread Financial's marketing analytics platform lets businesses gain insights into consumer trends and behaviors. This helps them target customers with the right product or service at the right time.
Furthermore, Bread Financial provides businesses with secure payment processing solutions through its secure online payment gateway technology, which allows for secure customer payments on websites or mobile applications. This helps ensure that transactions are safe and reliable for buyers and sellers.
In addition, Bread Financial offers customized billing solutions to businesses that simplify their billing processes while providing enhanced security measures for protecting customer information.
6. Nielson Holdings
Nielson Holdings is a multinational information and measurement company. It provides market intelligence and data to businesses, covering a range of sectors, including consumer goods, media, healthcare, finance, and technology. 
The company operates in over 100 countries, giving it a global reach. Its services include custom market research and analytics, insights into media consumption habits, and specialized data collection for targeted audiences.
Nielson Holdings has positioned itself as one of the top Gartner competitors through its extensive portfolio of services. Its wide-ranging capabilities have enabled it to penetrate multiple markets with its solutions.
The company also offers products to meet clients' needs from different industries. This allows Nielson Holdings to stay ahead of the competition by offering tailored solutions that suit their needs.
By providing high-quality services that integrate multiple areas, such as data collection and analytics, Nielson Holdings has established itself as a leader in the field of market intelligence.
Nielson Holdings' comprehensive portfolio ensures that customers can access reliable insights into their industry anytime.
7. Emarketer
Emarketer is an independent research company that covers digital marketing, media, and commerce. It offers insights into the global trends, data, and analytics of digital marketing.
Emarketer provides market intelligence solutions to over 6500 companies worldwide. Its services include data analysis and synthesis for digital marketing metrics, insights into various industry segments, and custom research tailored to meet clients' needs.
Its research methodology includes qualitative interviews with industry experts and quantitative surveys of consumers to gain a comprehensive understanding of the market at large.
Emarkete provides an in-depth analysis of each firm's sales strategies, services offerings, product portfolios, customer base, geographic presence, brand awareness, financial performance, key differentiators, and more.
The report also contains strategic recommendations to help businesses better respond to competitive pressures in the industry.
Emarketer provides firms with powerful insight into the dynamic digital landscape that can be used to create a competitive strategy that will lead them to remain competitive.
8. Frost & Sullivan
Frost & Sullivan is an international consulting firm that provides market research and analysis services. Founded in 1961 and based in California, Frost & Sullivan has grown to become one of the top Gartner competitors.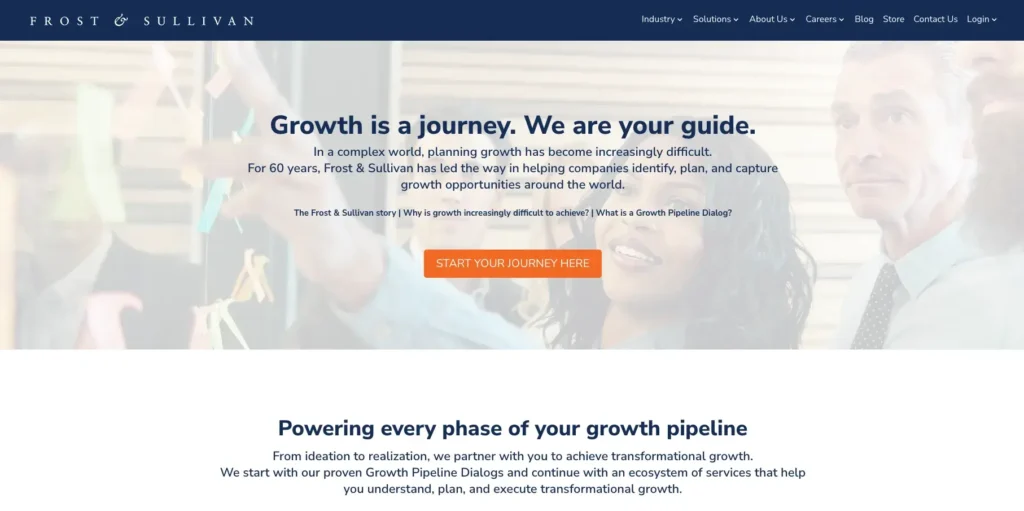 The company offers various services, including competitive intelligence, customer experience optimization, economic analysis, market research, and insights.
Frost & Sullivan operates several offices worldwide, including Europe, Asia-Pacific, Africa/Middle East, Canada, and Latin America.
They have a team of over 50 analysts who specialize in automotive, healthcare, life sciences, energy and environment, information technology (IT), and communications technology (CT).
Additionally, the company works with over 4000 clients across various sectors to provide customized solutions for their businesses.
The company's services are designed to help its clients better understand their markets so they can develop strategic growth plans.
Frost & Sullivan also offers consulting services that help companies understand their customers better, identify new opportunities for growth and expansion, and develop strategies to increase market share and reduce costs.
Furthermore, they provide executive training programs on marketing strategy development and management best practices.
9. GetApp
GetApp is an online marketplace that provides various web-based and mobile business applications. It is a platform that allows businesses to identify, compare, and select the best apps for their operations.
GetApp offers a catalog of more than 5,000 cloud and mobile apps from over 3,000 developers worldwide. This platform has been designed to help small and medium businesses to find appropriate software solutions for their needs.
GetApp is among the top twelve Gartner competitors due to its comprehensive selection of services, such as app discovery and comparison features. Additionally, this platform's customer support team advises on the best ways to implement new technologies into existing workflows.
Furthermore, GetApp's user-friendly design enables users to easily find the right tools to optimize their business processes.
GetApp also has a partner program that enables companies to become resellers of its products through an affiliate system or by integrating them into other applications. This feature allows businesses to generate additional revenue streams while providing valuable customer services.
As such, GetApp is a key player in the technology market due to its broad range of offerings and capabilities that enable businesses of all sizes to make informed decisions when selecting software solutions for their operations.
10. Strategy Analytics
Strategy Analytics is a leading market research firm that provides strategic insights into competitive markets. It is in six countries: the US, the UK, Japan, China, South Korea, and India.
The company's services include market forecasting, competitive analysis, and consulting. It covers many industries, including automotive, consumer electronics, information technology, and telecommunications.
Strategy Analytics collects data from primary and secondary sources to provide its clients with accurate analysis of the markets they cover.
This includes examining the financial performance of competitors and assessing their strategies. The company also offers custom research services tailored to specific needs.
The firm has over 400 employees worldwide and provides services to major corporations such as Apple, Samsung, Microsoft, and Huawei.
Strategy Analytics' core strength lies in its ability to provide strategic insights for businesses operating in highly competitive markets.
11. Park Associates
Park Associates is a firm that provides market research and consulting services across various technology-related industries.
This firm has been operating since 1986 and specializes in research for consumer technology, entertainment and media, digital health, smart home, IoT, and connected vehicles.
Park Associates offers quantitative and qualitative research studies, including custom surveys, focus groups, interviews with industry experts, secondary data analysis, and competitive analysis.
Furthermore, the firm provides competitive intelligence services to track competitor activities; product planning assistance; go-to-market strategy development; and market segmentation support to identify target audiences.
The company's team of analysts is experienced in their respective fields of expertise, which include market sizing and forecasting; competitive landscape analysis; customer satisfaction metrics; pricing models; trends in innovation; strategic planning support; user experience (UX) design reviews; business model evaluation; and return on investment (ROI) measurement.
Park Associates provides valuable insights into emerging technologies such as 5G networks, AI/machine learning applications, blockchain initiatives, and autonomous vehicles. Additionally, the firm offers in-house analyst workshops to assist clients with project execution.
Park Associates' market intelligence solutions provide actionable recommendations for enhancing product performance or developing new strategies to capture greater market share through its extensive network of industry contacts across various sectors, including retail, healthcare, finance/banking, and telecommunications/media services.
12. KPMG
KPMG is a global network of professional firms providing audit, tax, and advisory services. The firm has operated for over 150 years and is part of one of the Big Four accounting organizations.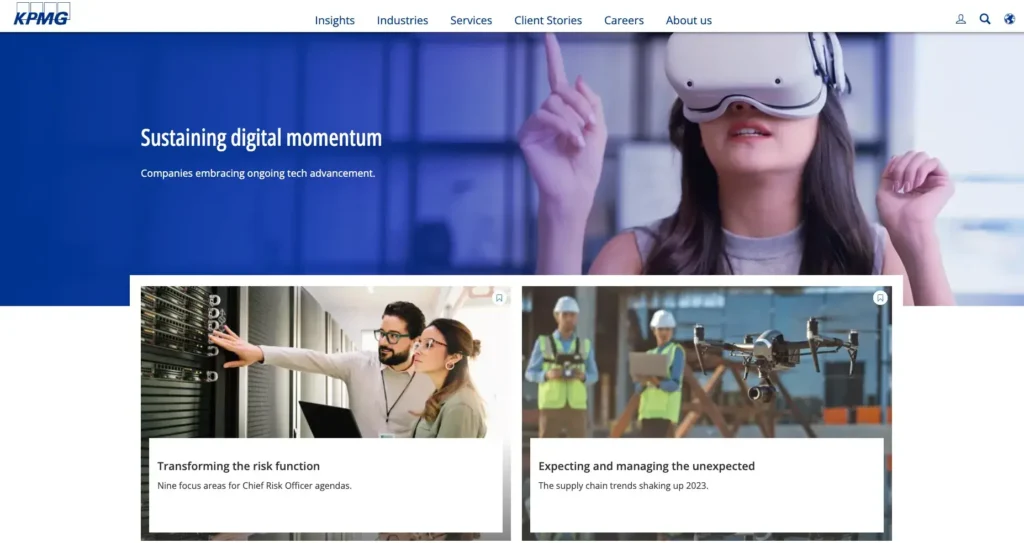 KPMG operates in 147 countries around the world and employs over 200,000 people. Its offices are in major cities such as London, New York, Tokyo, Frankfurt, Sydney, and Shanghai. KPMG is one of the top Gartner competitors, which provides differentiating services to its clients.
KPMG's services include financial statement audits, tax planning, and compliance services, enterprise risk management solutions, IT assurance, and consulting services.
The firm also offers specialized industry knowledge in technology-driven sectors such as automotive, healthcare, energy & natural resources, and financial services. This range of expertise allows KPMG to provide comprehensive solutions tailored to the needs of each client.
KPMG's success is based on its commitment to delivering high-quality services that meet the expectations of its clients. Its global footprint ensures it can assist companies from all regions with complex business decisions and strategies.
As a result, KPMG has become an integral partner for businesses seeking innovative solutions to their most challenging issues.
Frequently Asked Questions
1. Who is Gartner's biggest competitor?
Gartner's biggest competitor is Nielsen Holdings. Nielsen is one of the most recognized names in the IT analyst industry and has a long history of living up to the standards it sets for itself. Other companies such as Forrester Research, IDC, G2.com, and TrustRadius compete with Gartner, but they need to match Nielsen's level of recognition.
IDC is a large company that covers different areas than Gartner, while Evalueserve, International Data Group, and Elohi are smaller competitors. Regardless of size, Nielsen remains Gartner's biggest competitor in the IT analyst industry.
2. ​​Is Gartner better than McKinsey?
Gartner and McKinsey are both well-known and highly respected firms in the corporate world. When deciding which one is better, it depends on the specific situation. Gartner has a higher overall rating of 4.2 out of 5, while McKinsey's overall rating is 4.3.
However, compared to Gartner, McKinsey has better ratings regarding salary and ease of deployment, administration, and maintenance. Also, IRI Worldwide and UpClear have higher ratings than Gartner regarding ease of deployment, administration, and maintenance. So, ultimately it comes down to the specific needs of each business and which firm can best meet them.
3. Which is better, Forrester or Gartner?
It can take time to decide between Forrester and Gartner regarding research and polling organizations. With real-time data from both, it is important to compare their scores. While Gartner has a slightly higher rating of 3.8/5 stars with 31 reviews, Forrester also has an impressive 4/5 stars with 19 reviews.
Gartner scored higher regarding Diversity & Inclusion, Compensation & Benefits, Career Opportunities, CEO Approval, and Positive Business Outlook. On the other hand, Forrester takes a similar approach to Garter but emphasizes technology end users.
Gartner may be better for focusing on IT and operations, while Forrester excels in customer experience research. Ultimately, both organizations have great ratings and offer different approaches that could benefit any business or individual looking for reliable data and insight.
4. Who are the competitors of Gartner's digital markets?
Gartner Digital Markets is a research and advisory services firm specializing in digital marketing analytics. Its biggest competitor is Forrester Research, a research and consulting firm focusing on digital marketing analytics. Other competitors include Adobe, IDC, International Data Group, Securus Technologies, and TruOI.
These firms provide similar services, guiding companies in optimizing their digital marketing strategies. Gartner Digital Markets is known for its analytical insights and data-driven approach to helping companies make informed decisions about their digital marketing strategies.
Conclusion: Best Gartner Competitors
With the market being saturated with competitive offerings, it is important to have access to reliable data to make informed decisions. Gartner is one of the leading providers of such data but must compete with the other companies mentioned above. Each organization has unique offerings that cater to various needs and preferences. Therefore, companies should consider their options when selecting a research service provider.
G2 offers technology reviews and comparisons from real users; TrustRadius provides user reviews and ratings on software products; Forrester focuses on customer experience surveys; IDC provides market intelligence data; Alliance Data offers analytics-driven marketing solutions; GetApp is a business app directory and marketplace; Strategy Analytics specializes in competitive intelligence; and Park Associates concentrates on consumer research.
Table of Contents